Here are our "virtual" riders for GTR 2020, which would have taken place May 15-17 if it wasn't for a certain pesky virus.
---
Bill and Kathy Foster, Fruitland, FL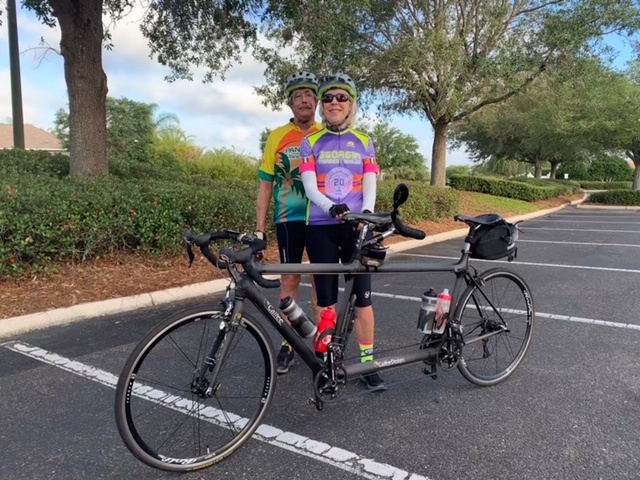 We are at the Top of the Hill, our meeting place for riders such as Dick and Patty Young, Hank and Kathy Williams, Bruce Hansen and others. We head downhill, trying to break 30 mph, on our way to the start of the PANTHERS ride. 
---
Robert and Lisa MacElderry, Elgin, SC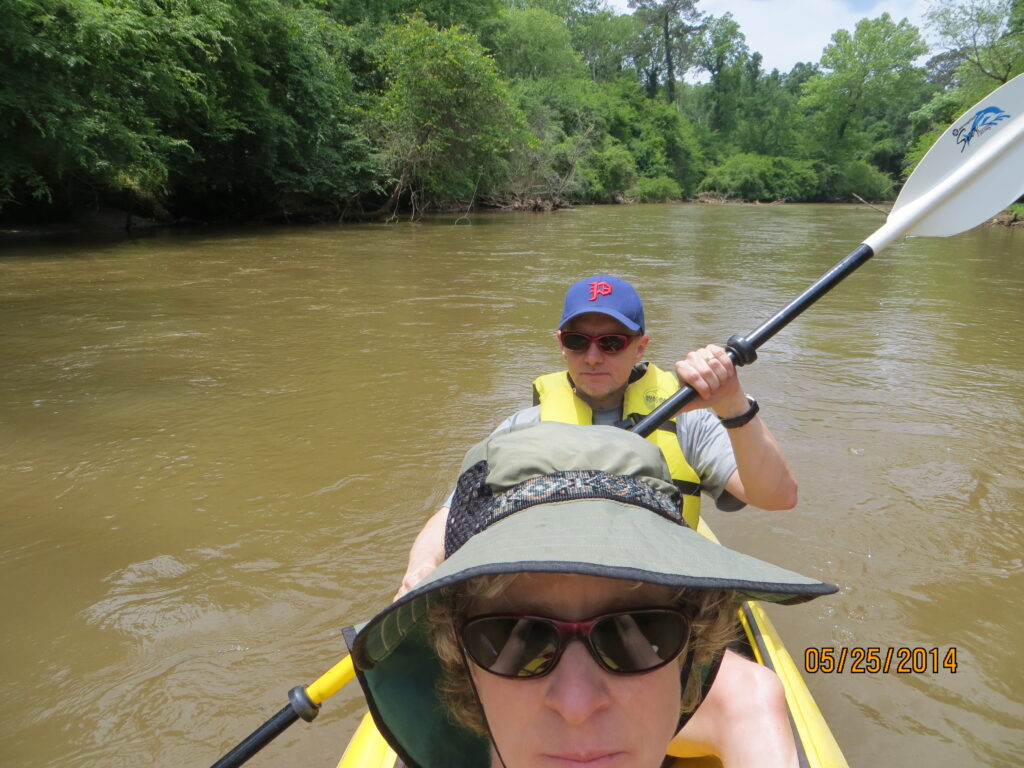 Robert and Lisa MacElderry did not bike at all GTR weekend. We did take our tandem kayak out for the first time in 6 years – yikes!  I failed to take a single picture of us as we dodged the rocks with the famous spider lilies on the Catawba River at Landsford Canal State Park.  The picture of us in boat is on Cedar Creek in Congaree National Forest.
---
Wayne and Geri Barrios, Toccoa, Ga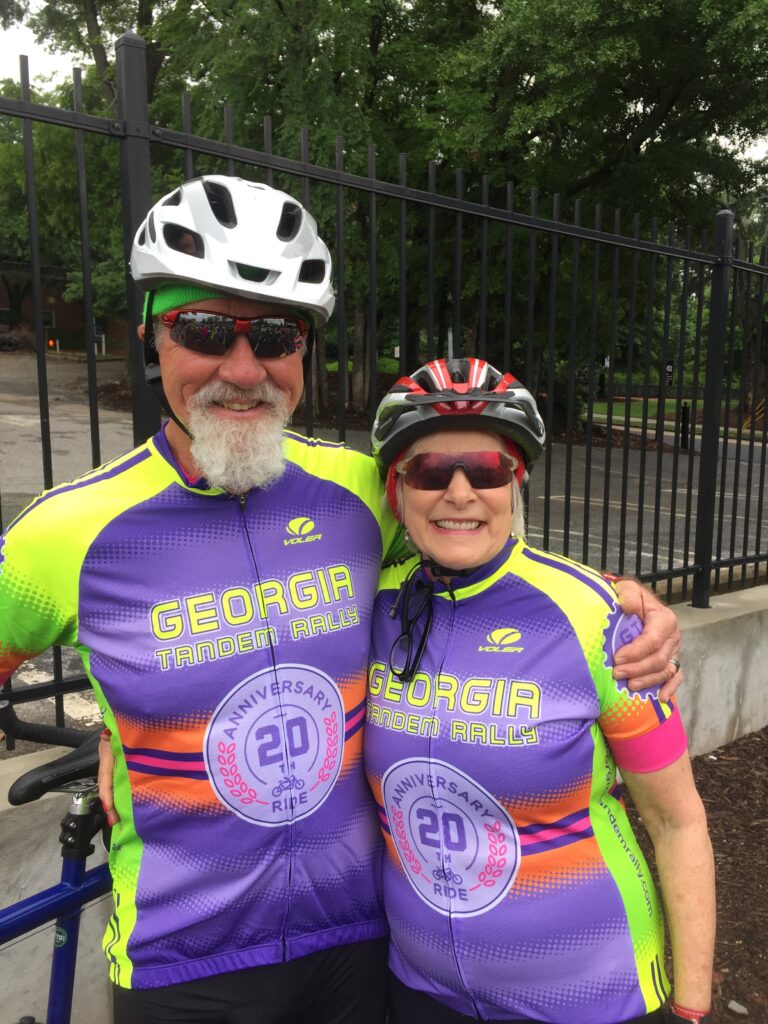 Athens GTR Rally May 26, 2018
This year would have been our 4th GTR and we really miss it.
---
Alex and Stacy Gutierrez, Hollywood, FL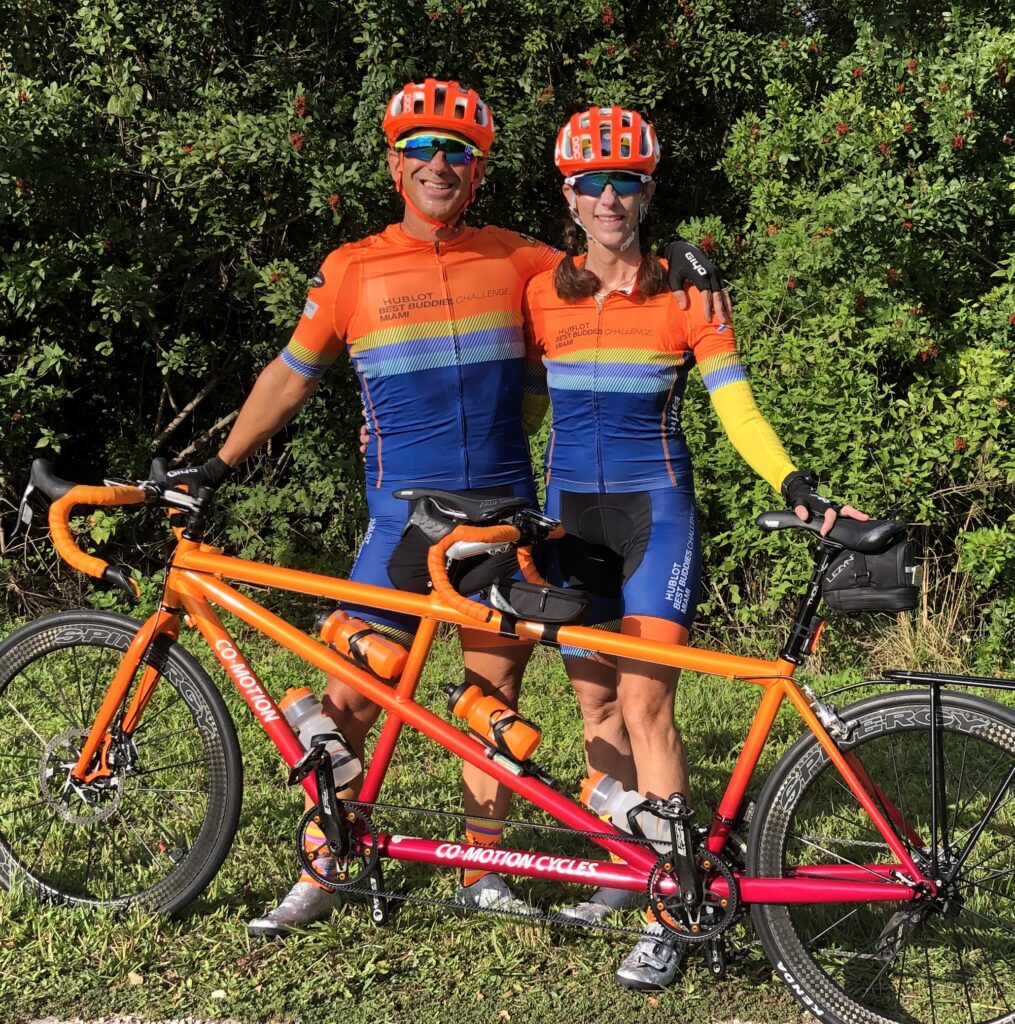 Hello GTR Friends.  We missed everyone this past weekend.  Looking forward to riding with all our tandem friends again in September!  Cheers!!
---
George and Pat MacNabb, Glenwood, MD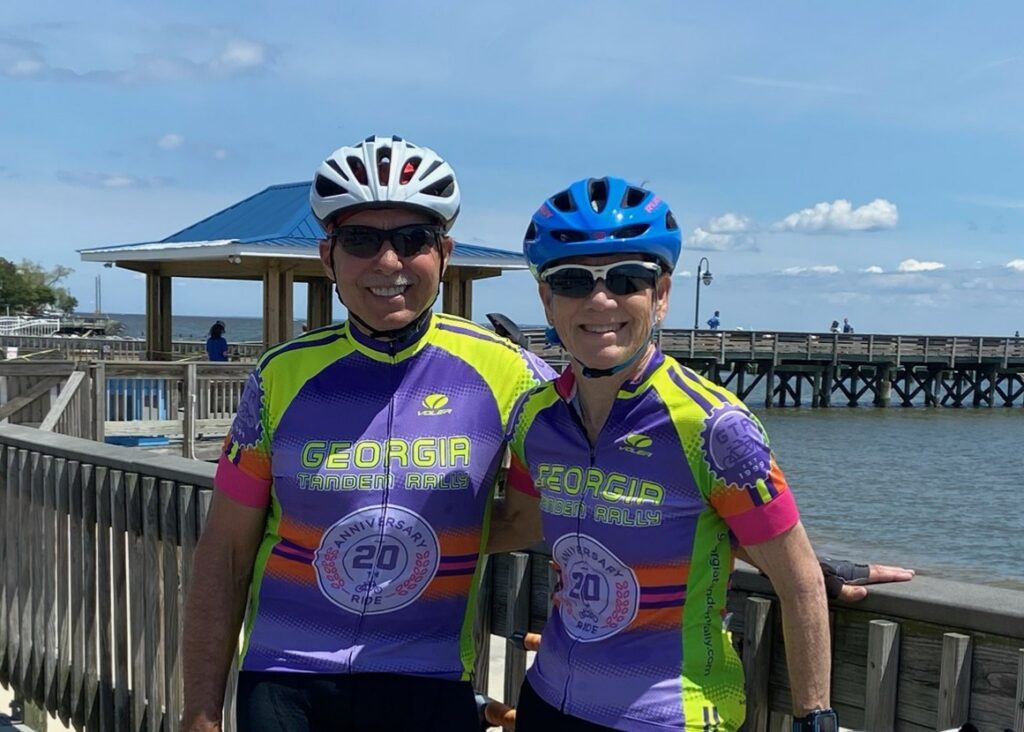 A beautiful ride on an equally splendid spring day! 65 miles down to North Beach on the lovely Chesapeake Bay. Hope to see everyone in Georgia on Labor Day weekend.
---
Stew and Nancy Clark, St. Louis, MO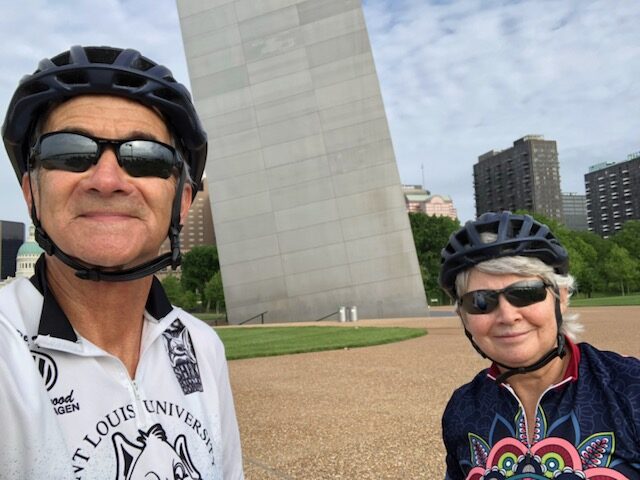 After returning from four months of cycling in Apache Junction, AZ, we returned home to St Louis, and had a nice 28-mile ride to the St. Louis Arch and back.
---
"Bicycle Ralph" Schmit and Inez Darnell, Acworth, GA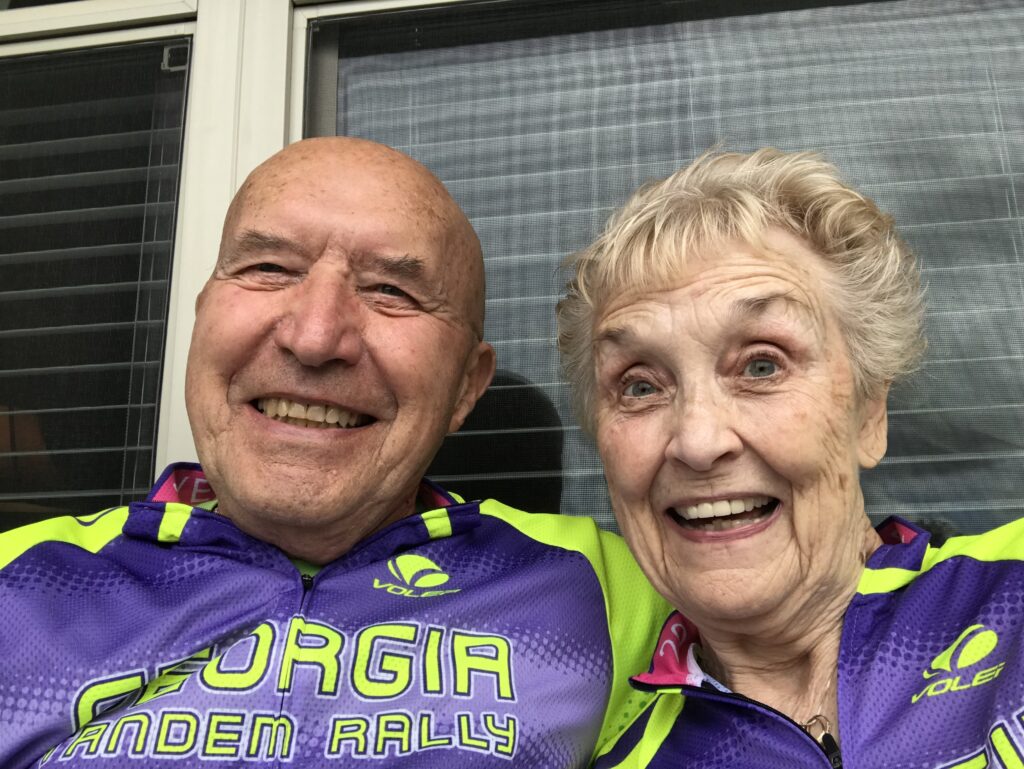 I miss all your smiling faces and your happy stories !! We are isolated like all the other seniors! Hope to ride after June 15th! Hope to see you all in September!
Love you all, Inez and Ralph
PS: Thanks Eve and Roger for all your work!
---
Hank and Kathy Williams, The Villages, FL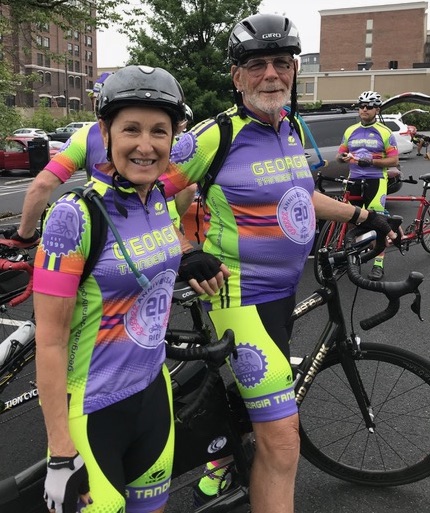 ---
Bob and Christi Meara, Marietta, GA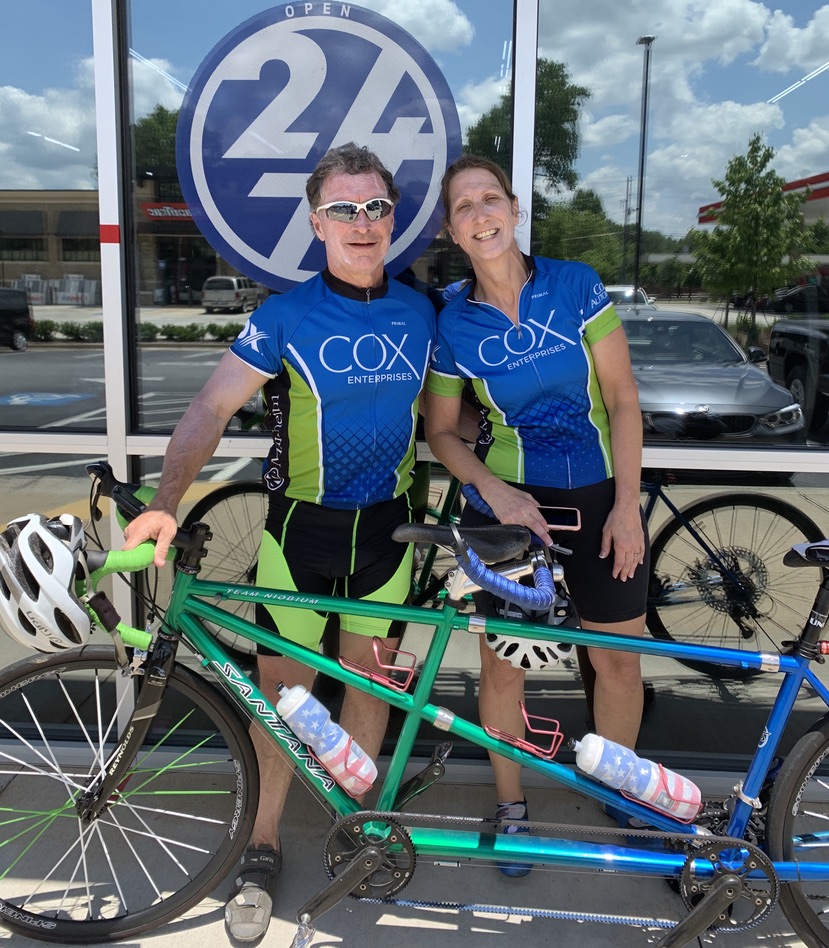 We enjoyed one of our favorite short rides followed by a visit to the gym on our recently upgraded Santana.
---
Bicycle Gang, The Villages, FL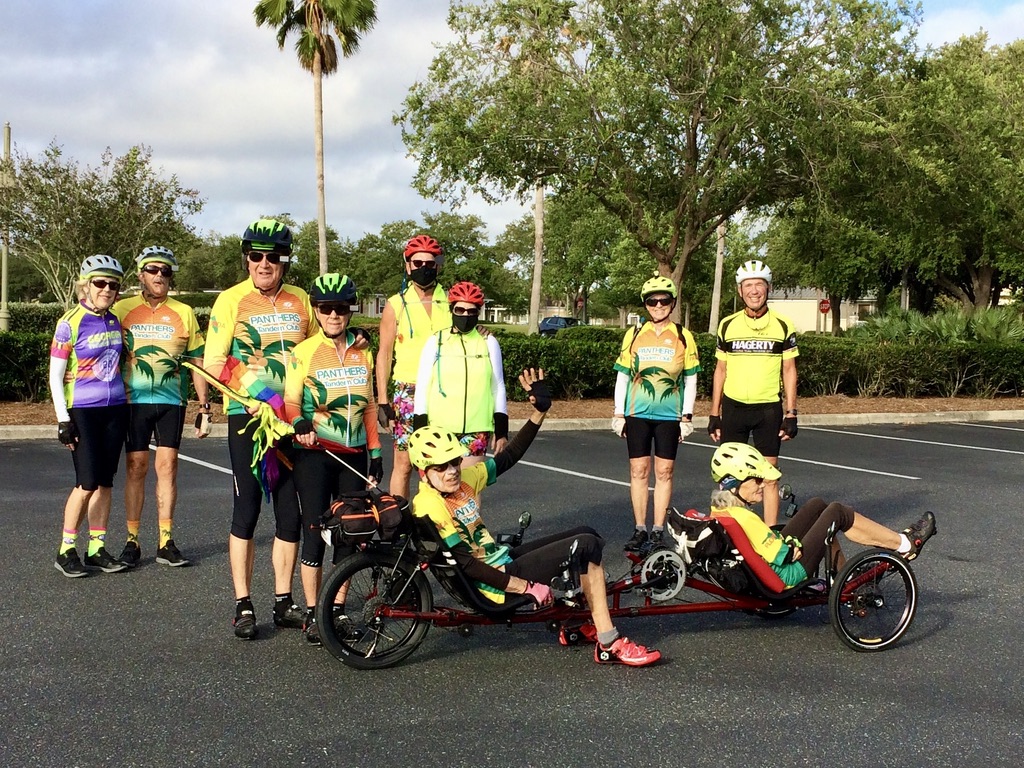 Several members of the Florida PANTHERS taking part in this year's virtual tour.
---
Bruce and Susan Hansen, The Villages, FL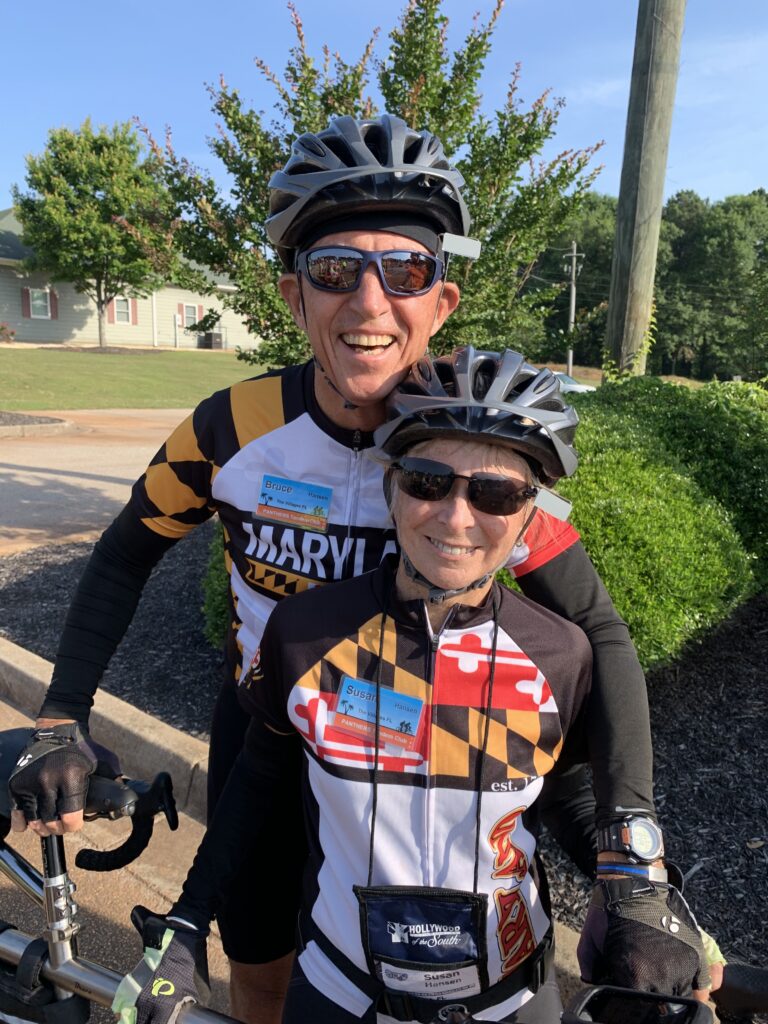 This is a photo of my wife, Susan, and I at last year's tandem rally. We discovered in late August that she had cancer and she passed away on December 30th, 2019. She was a proud Florida PANTHER and we had so much fun at last year's rally.
---
Jeff and Darlene Eakle, Orange Park, FL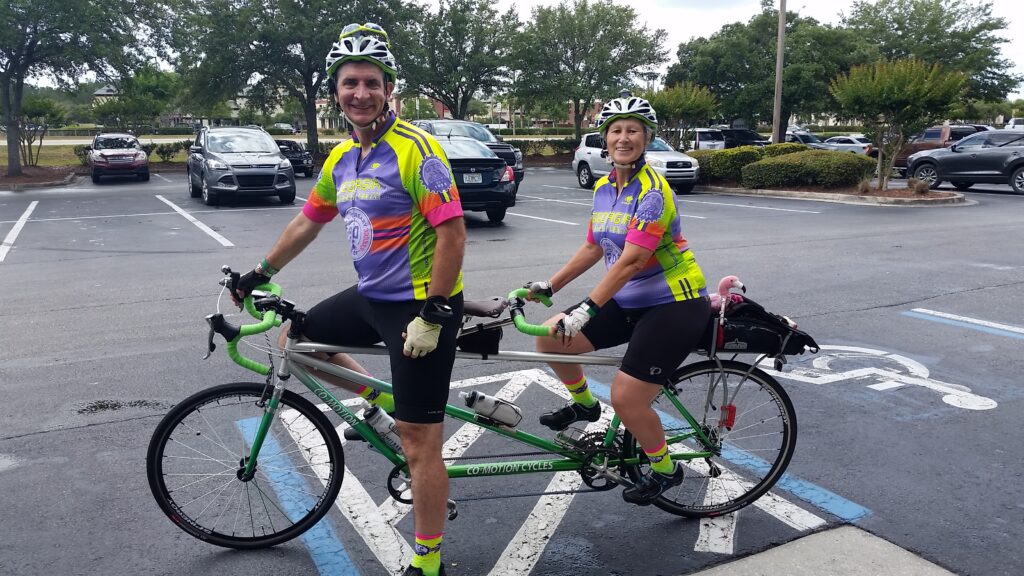 The attached is our photo from the rain stage, er flat stage, of VGTR 2020. We stopped off at our local bike shop.
---
Ken and Libit Woodington, Hopkins, SC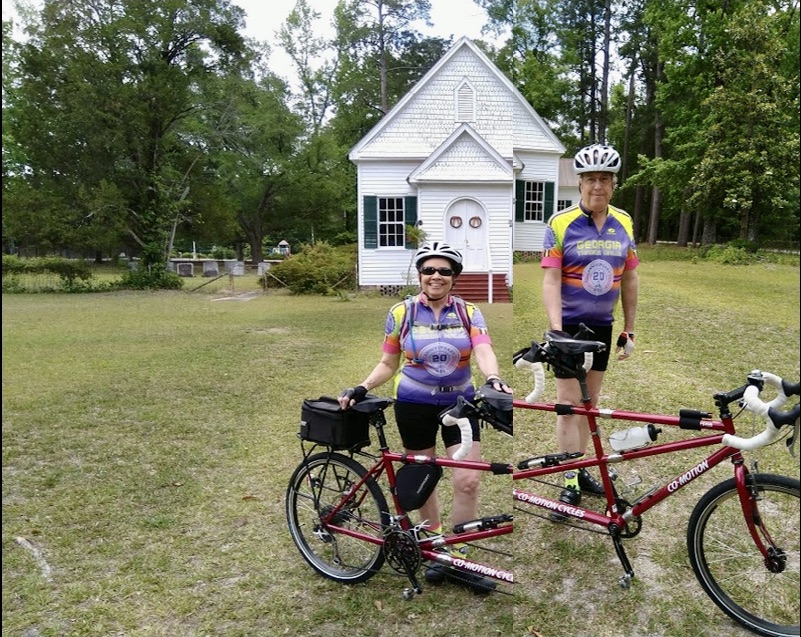 With no selfie stick and no one in sight, this odd composite in front of a small country church is the best we could do!
---
Cliff and Joyce Frank, Wherever their RV takes them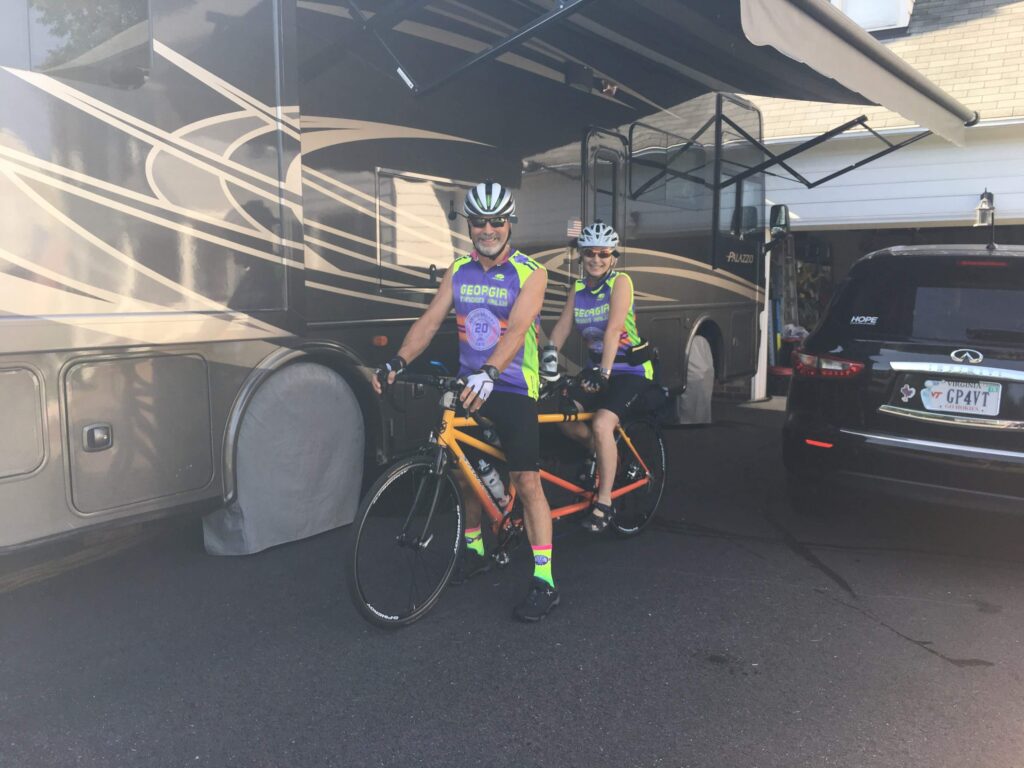 Archival picture due to the remnants of Arthur this weekend. Hoping everyone is well and enjoying the "crawl" out of isolation. Here's to better times!
---
Jack and Becky Beal, Bradenton, FL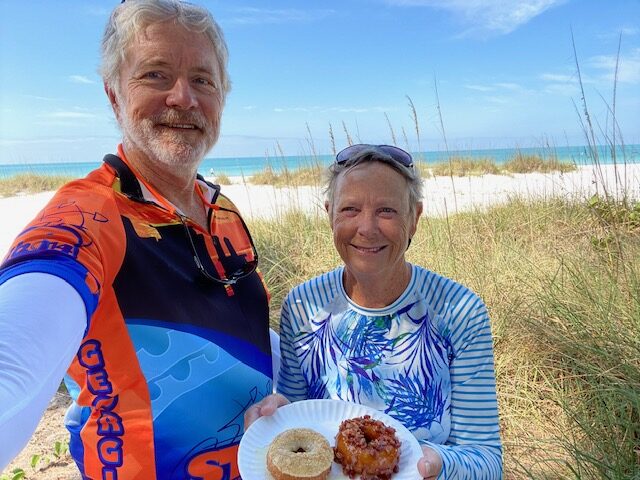 Rode out to Anna Maria Island to see our beautiful gulf waters and to grab a freshly made donut!
---
Jack and Susan Goertz, Birmingham, AL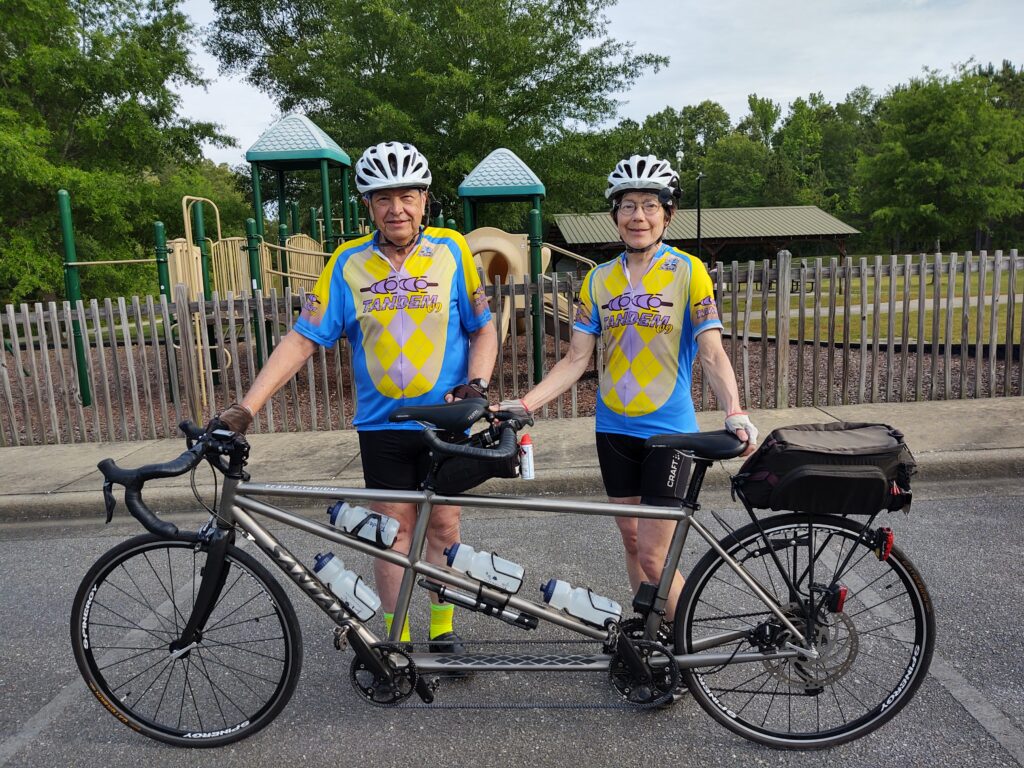 Jack & Susan Goertz ready to head out into the Shelby Co. (AL) countryside for a bit of fresh air and a few miles today (5/17/20).
---
Larry & Elaine Dunning, New Port Richie, FL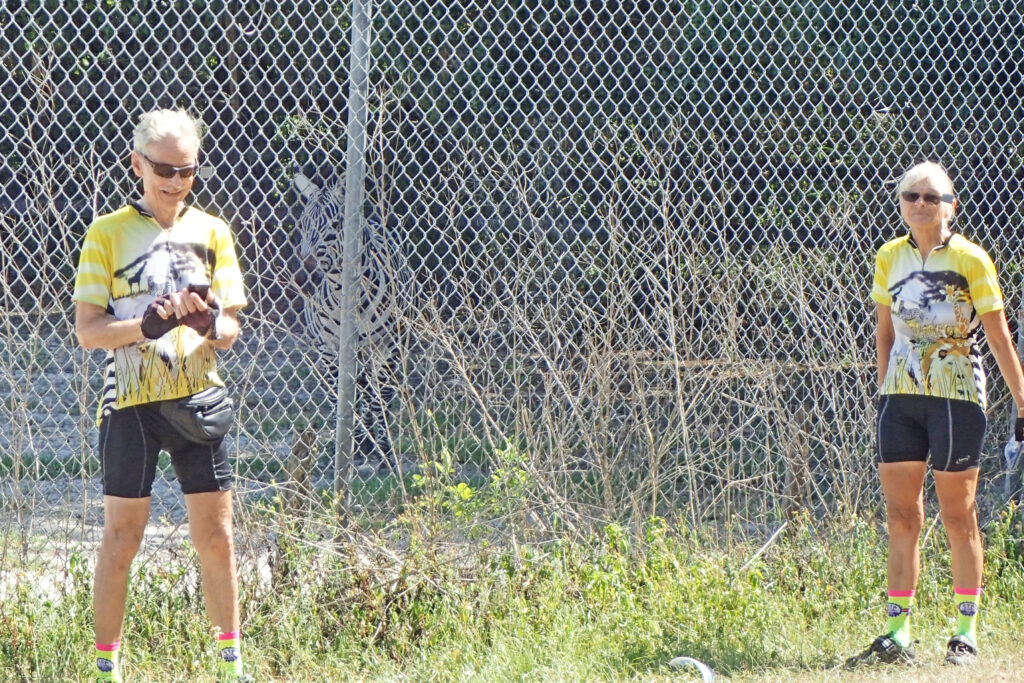 Dunning's Sunday VGTR ride (102 miles). Mile 95: I live in flat Florida so I am a plains zebra . I got the photo gig since the goats at mile 30 wouldn't climb their log. The donkey, mile 70, just brayed. The ice cream at mile 89, was for survival.
---
Roman and Cristina, Miami, FL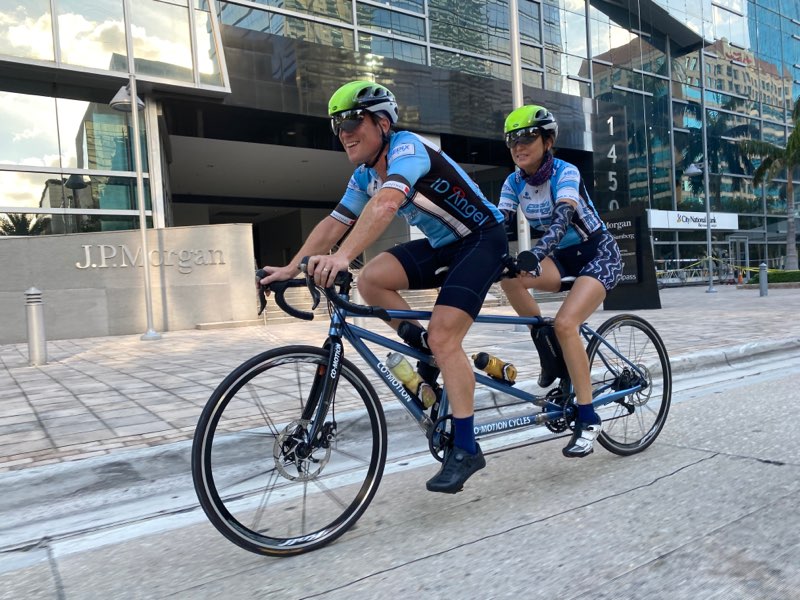 Just ride. Happy wife, Happy Life!
---
Emmanuel and Laura Charron, Longboat Key, FL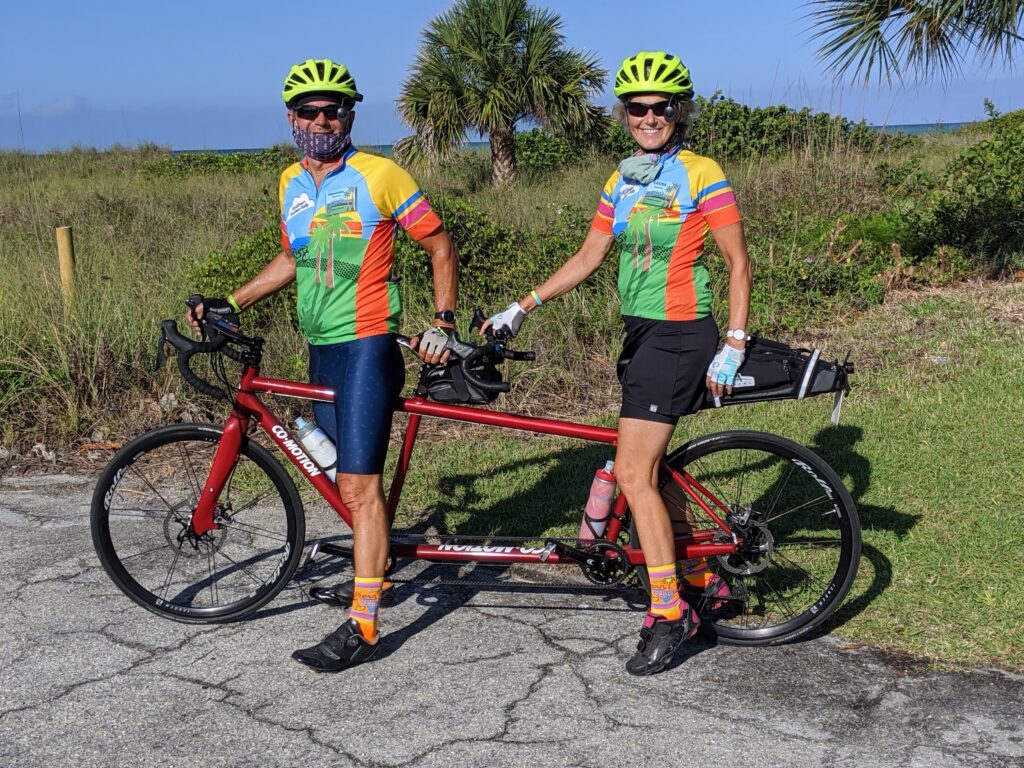 We've never done a Georgia Tandem Rally. This was going to be our first. Oh, well! We ride 2 or 3 times a week around our home. We are looking forward to seeing everyone soon. Keep riding and stay safe. L+E
---
Tom and Anita Wolcott, Niceville, FL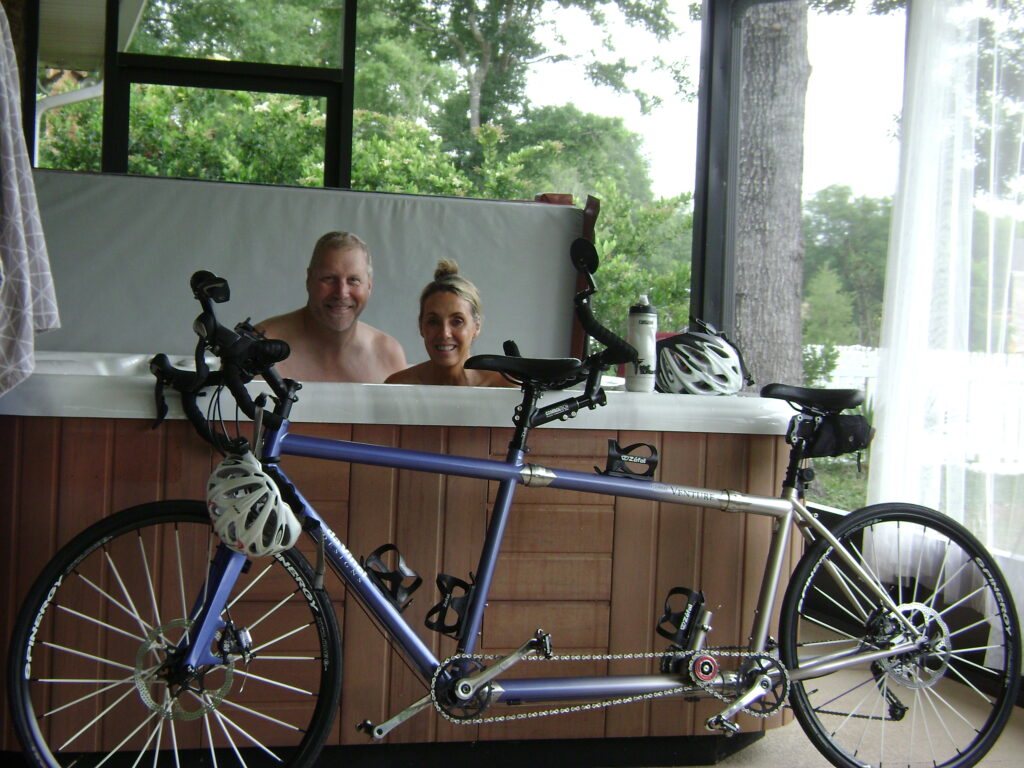 Today's ride was a short 15 miles; needed to check out before noon. Enjoyed the ride so much we forgot the photo. Hope to see you at a fall rally.
---
Al and Heidi Parker, St. Augustine, FL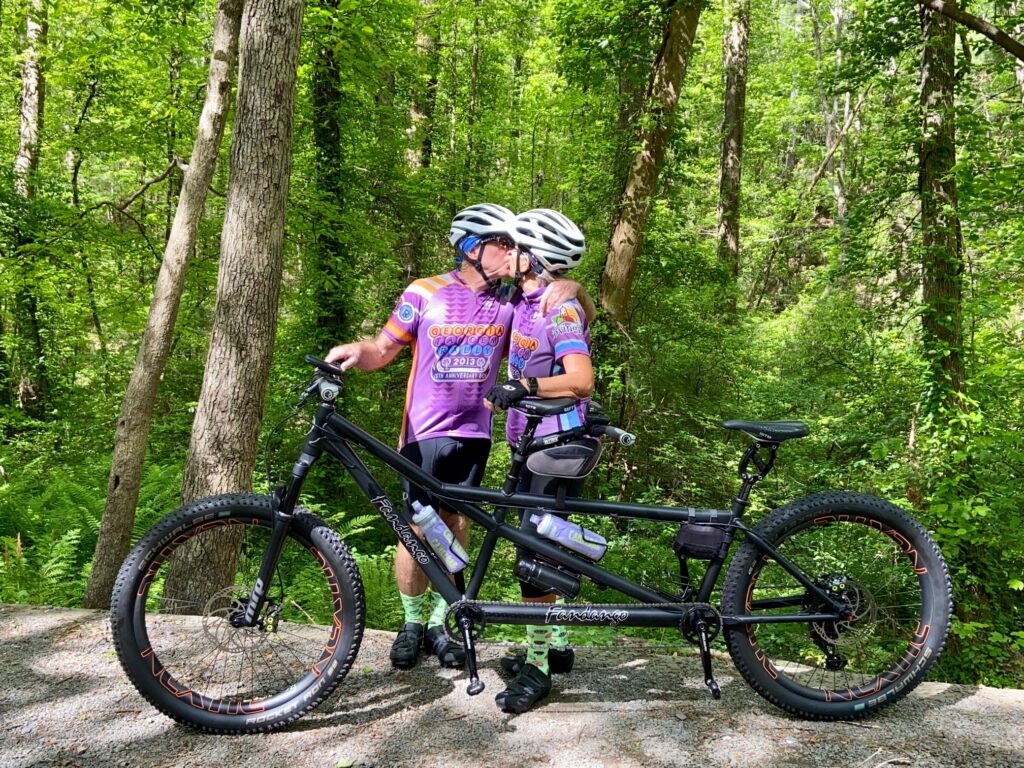 Fort Mountain State Park, Georgia. Some Georgia hills for these Floridians. Missing everyone!
---
Steve and Pam Stiles, Wapakoneta, OH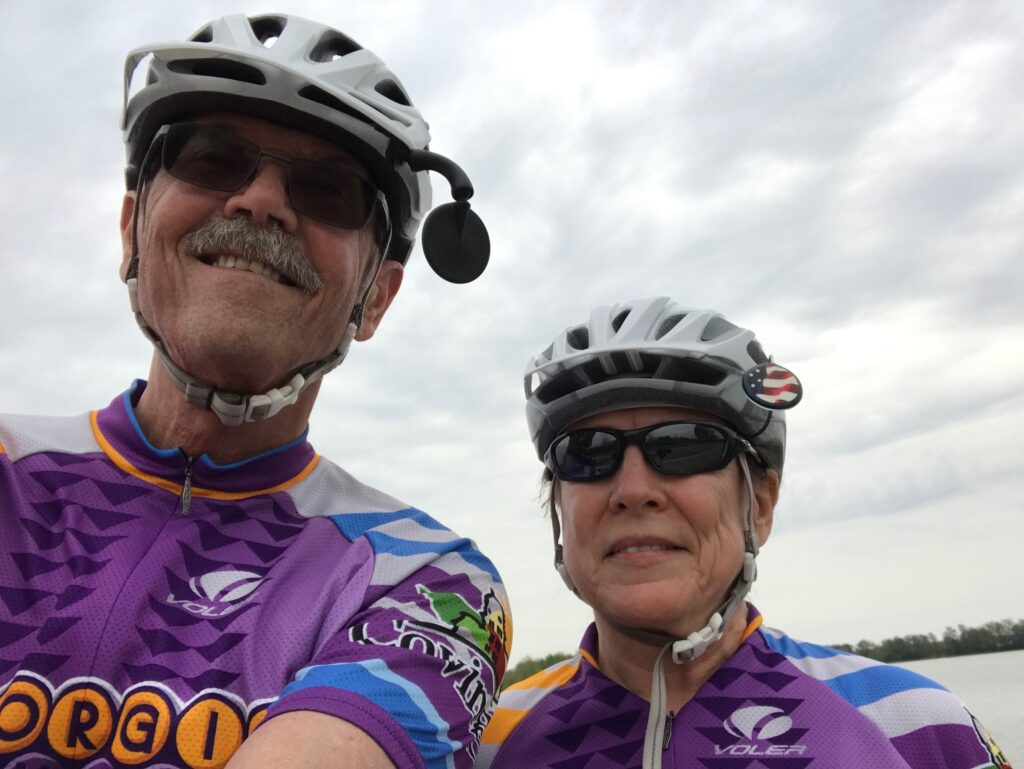 We made a windy 40-mile loop around Lake Loramie. Certainly not the ride we had envisioned when we signed up for GTR. Thank goodness we can ride and get out of the house. Sporting our 2013 GTR jerseys. Looking forward to seeing other virtual rides.
Thanks Roger and Eve. Stay safe!
---
John and Mitzi Boland, Tucker, Ga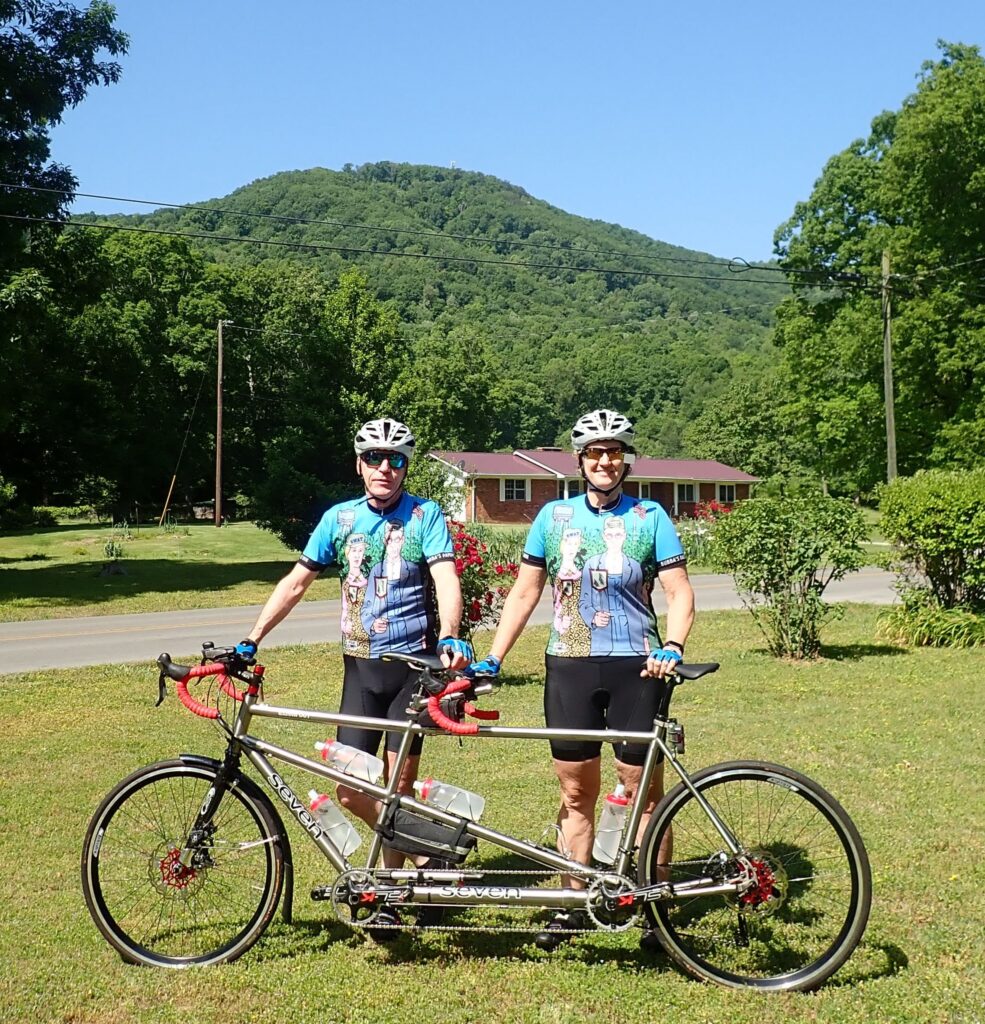 We spent GTR weekend in Tennessee cycling the Sequatchie Valley where Mitzi grew up. We are missing our GTR friends and hope to see everyone in September.
---
Arthur and Maureen Wood, Longboat Key, Florida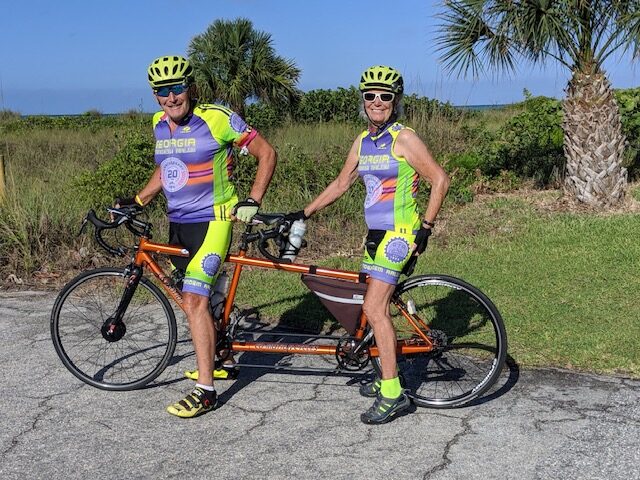 Our regular Saturday 26-mile ride with fellow tandem team, the Charrons. Looking forward to GTR 2021.
---
Jim and Lora Woodward, Alpharetta, GA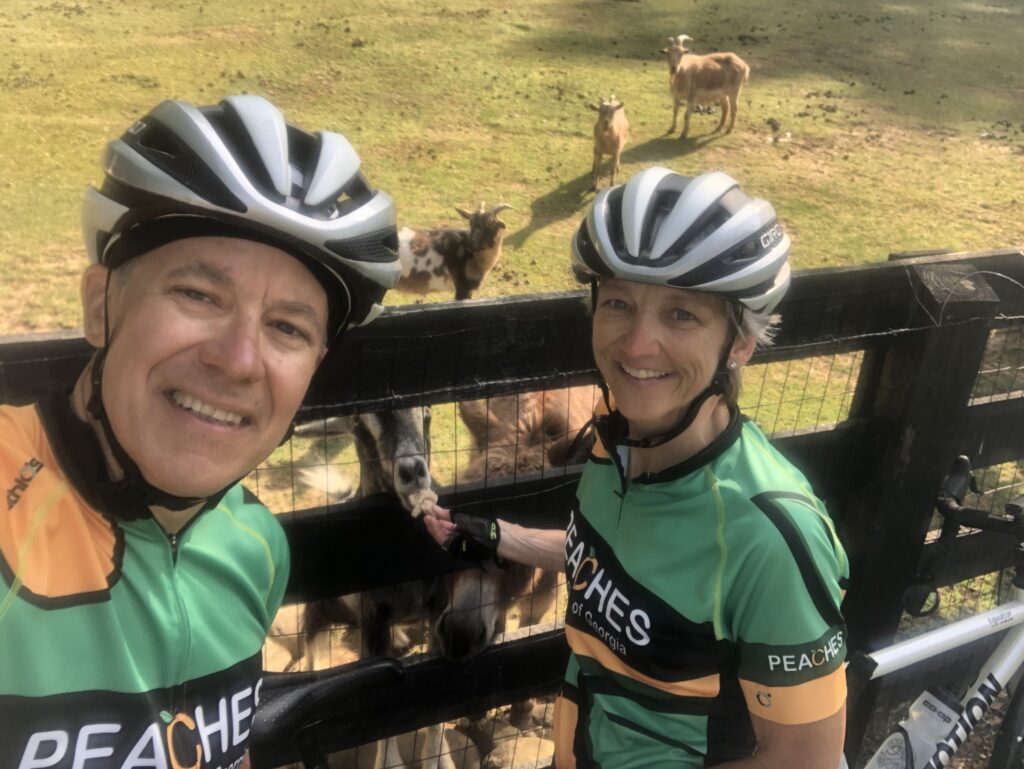 "Sharing Bread on our 35 Mile Tandem Ride around Milton, GA"
Missing GTR -Best cycling in Georgia in May. Sharing bread with friends.
---
Chris and Connie Hendy, North Garden, VA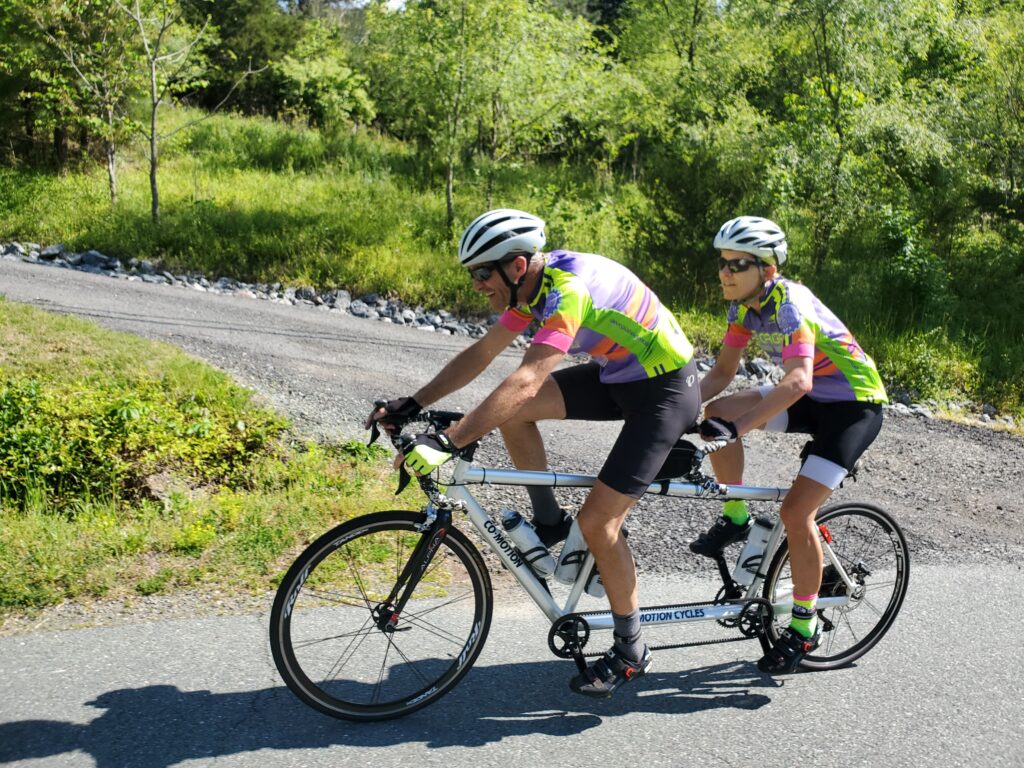 Yesterday we joined another tandem (who has not been to a GTR yet) and three singles on a hilly ride that took us along the foot of the Blue Ridge Mountains. We have mostly been riding by ourselves this spring. We are looking forward to seeing everyone at the new GTR 2020 weekend in September.
---
Reg and Michele Ullmann, Orlando, FL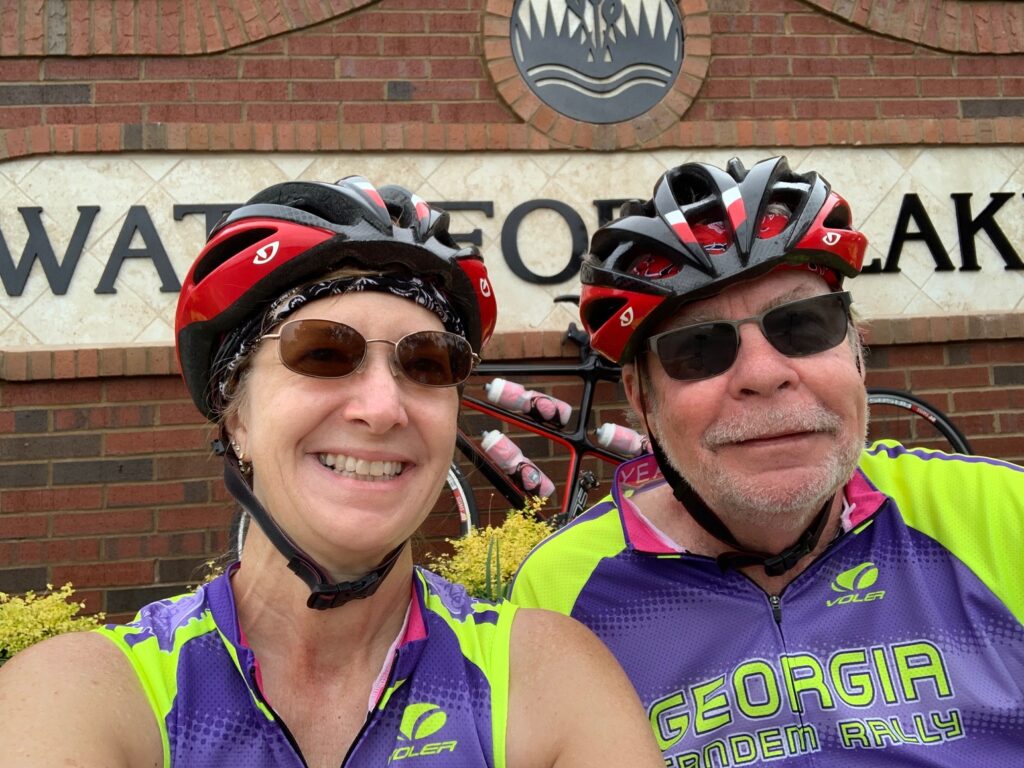 We didn't even make it out of the neighborhood. Tropical Storm Arthur has spawned scattered showers throughout the last two days. It started sprinkling as soon as we took this picture so we turned around and parked it.
---
Three Teams From South Carolina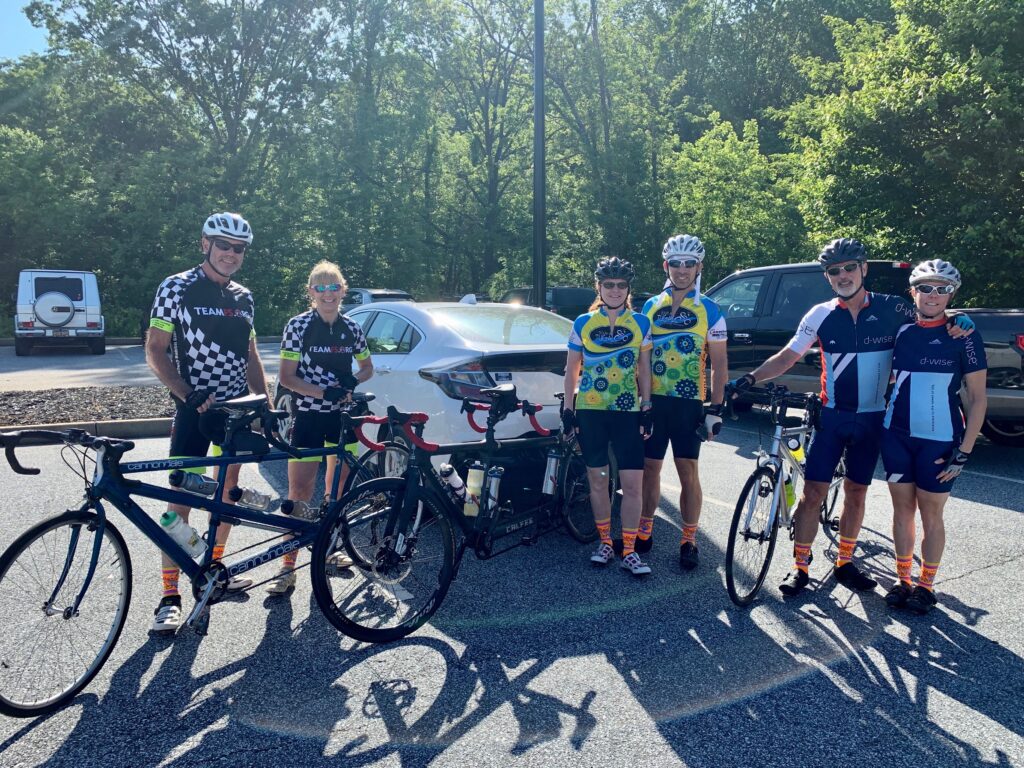 Left to right: Doug and Jodi Imes, Clarke and Barbie Phillips, Bud Whitmeyer and Tammy Goodman.
We had a mini tandem rally with 3 teams on Friday and Saturday. Two days of riding in the beautiful mountains of North and South Carolina. Saturday was STR sock day! Hope to see you all at the next GTR!!
---
Alan and Joanne Burkett, Greenwood, SC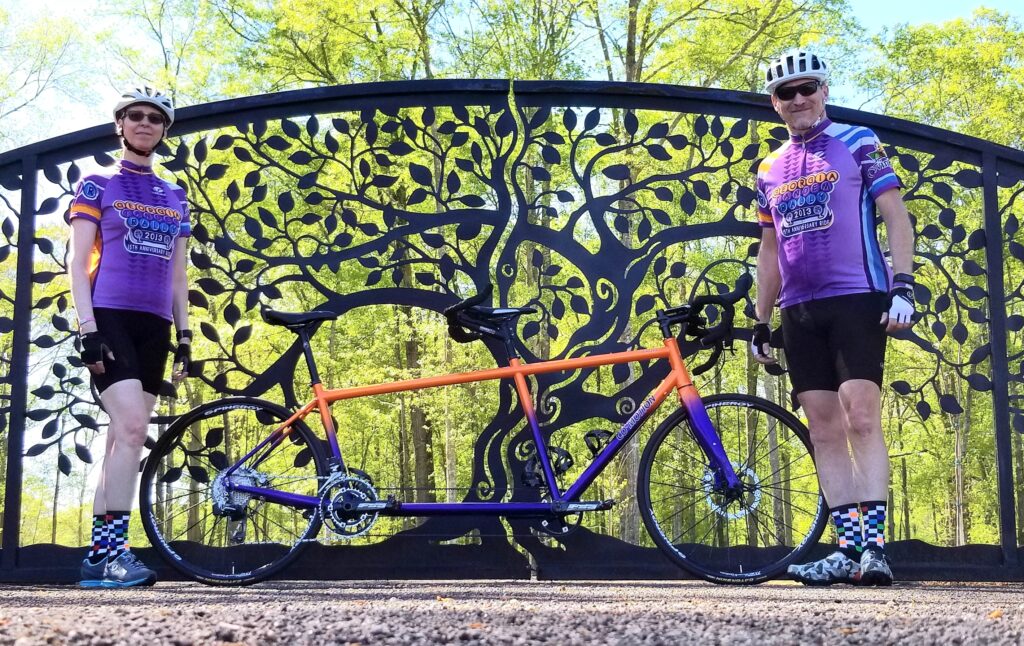 We are sad that there is no GTR this week. Hope to see all either in September or at GTR 2021.
---
Tim and Vickie Page, Acworth, GA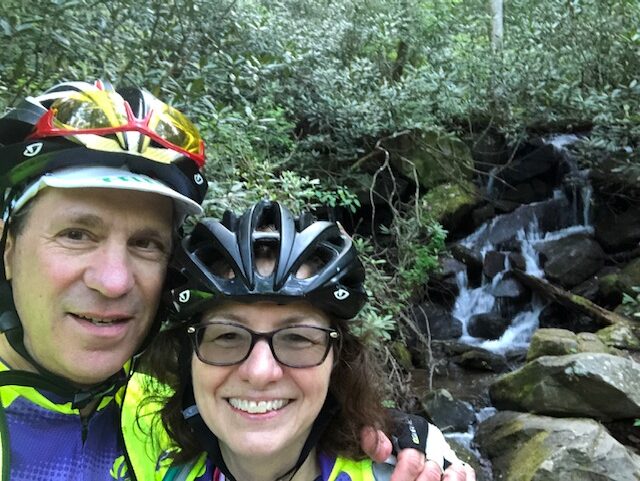 We left our tandem road bike behind and escaped on a beautiful ride along Noontootla Creek on our awesome mountain bike tandem in the North Georgia Mountains. The challenging 7 1/2 mile uphill is followed by a speedy 7 1/2 mile downhill. There are scenic views all along the route of the total 25-mile ride. We highly recommend this area to anyone wanting to visit North Georgia!
---
Chuck and Judy Harris, The Villages, FL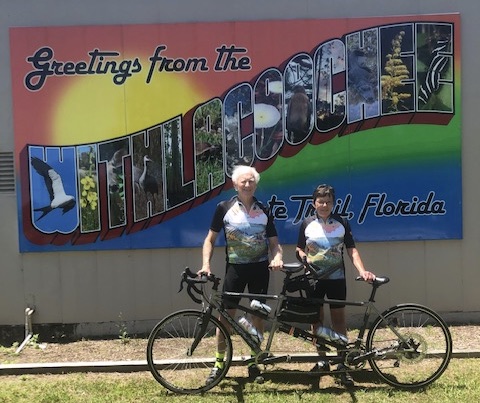 A nice ride on the Withlacochee Trail! Stay well everyone, see you in 2021
---
George and Marti Ross, Niceville, FL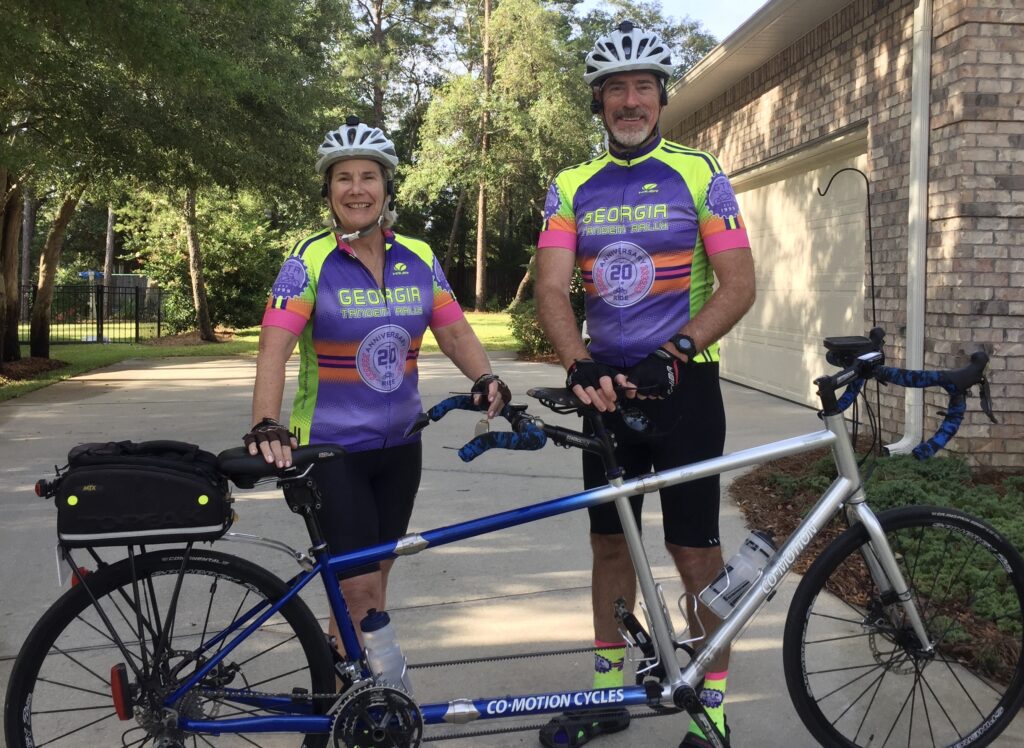 30-mile ride around the waterfront neighborhoods on the bayous of Niceville FL.
---
Carl Peltzer and Ayako Tamura, Colfax, NC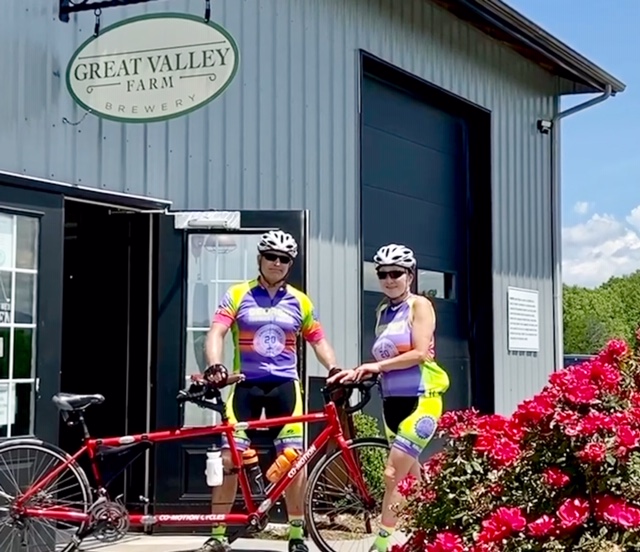 30 miles into the ride we stopped for a little liquid courage. Riding with Kip and Anne and Hank and Roxanne. Beautiful riding in the Lexington, VA area today.
---
Jack and Pat Deacon, The Villages, FL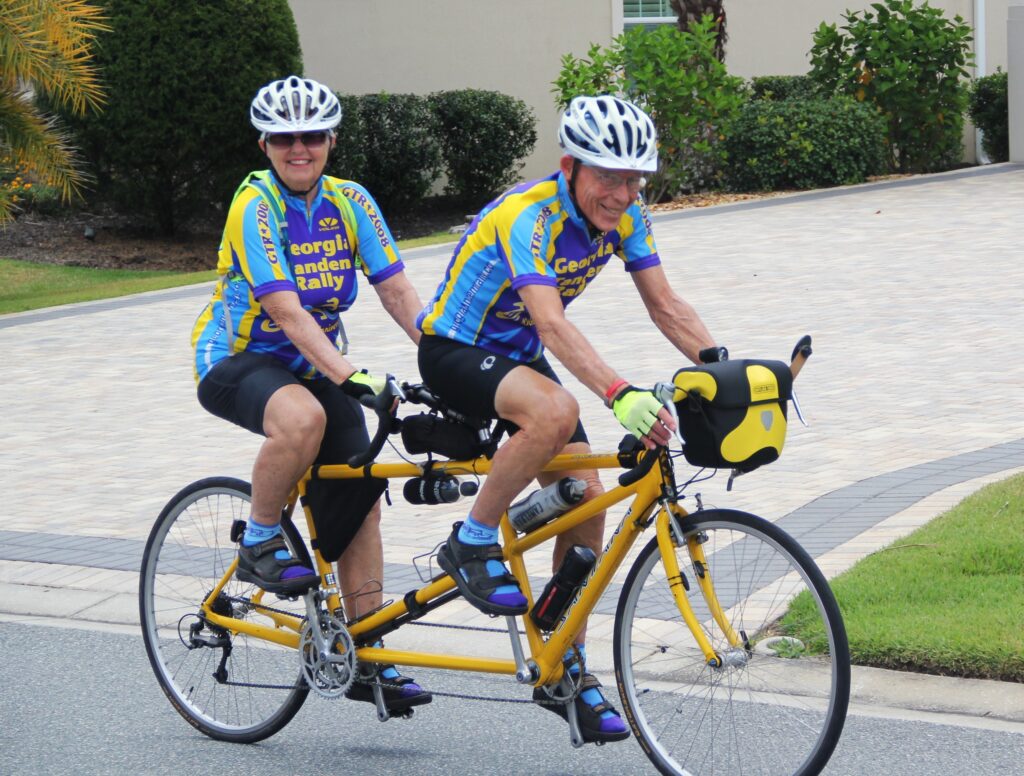 Sorry we didn't see you on the road today. Did we follow green instead of yellow crankarms? We had a wonderful ride especially along Old Mill Run. The route was all downhill, and we enjoyed a 13-mph tailwind throughout. We cycled 34 miles before finding the photographer.
---
Greg and Angela Knecht, Monticello, FL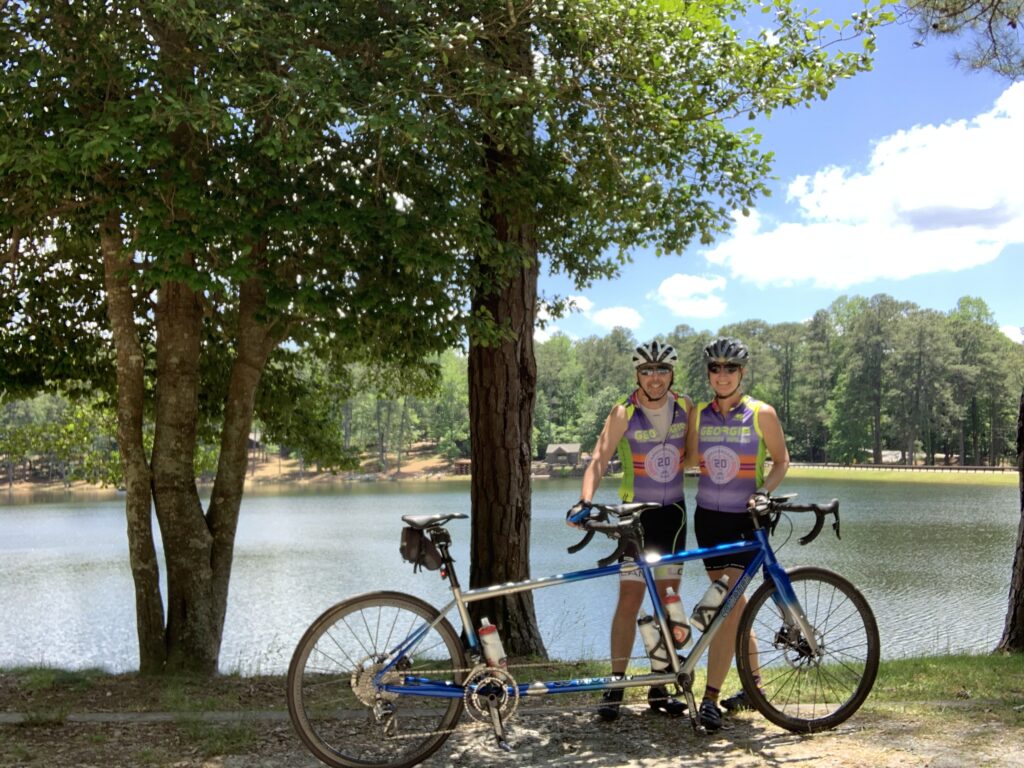 Great 44-mile ride in Pine Mountain, GA! Missing our GTR buddies this weekend!
---
Ray Murtaugh and Nancy Raftery, Dunedin, FL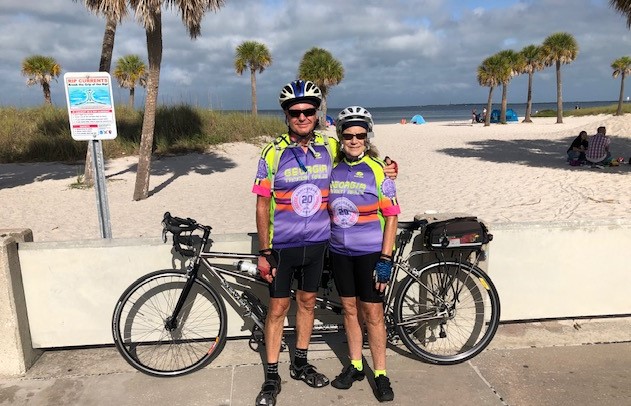 Here is a photo of us today on our regular Saturday ride with a rest stop at a state park in Tarpon Springs FL. We are missing our GTR friends (and PANTHERS). Stay well, all. See you at a future rally!
---
Don and Terri Pouliot, Naples, FL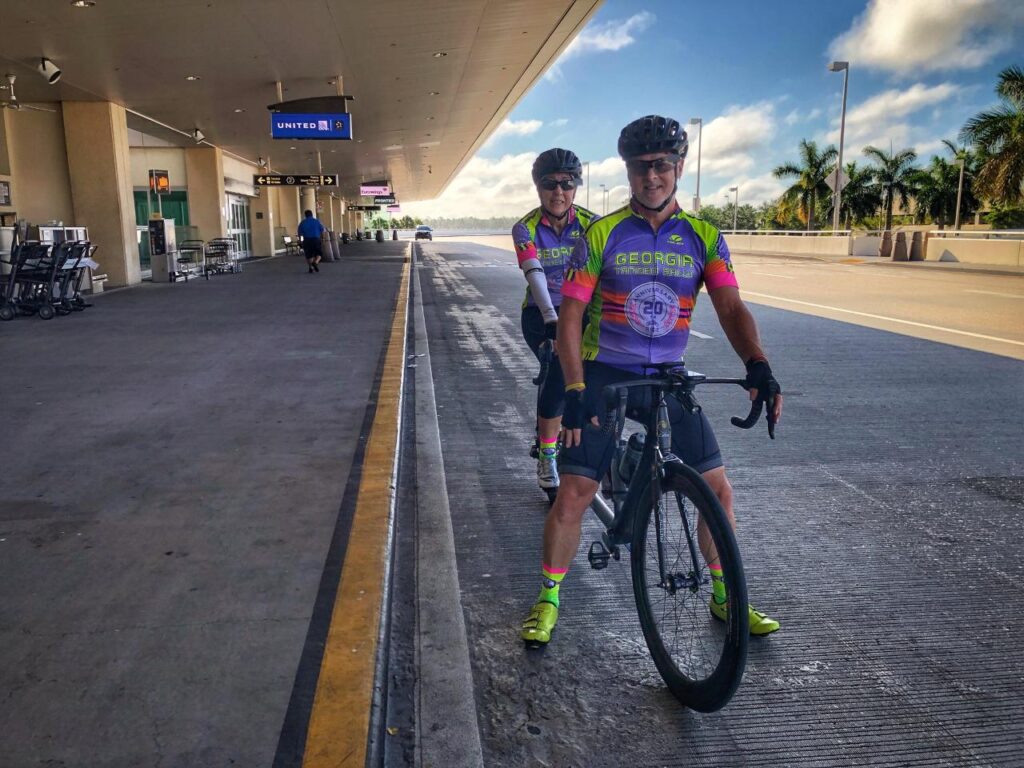 We did a virtual GTR ride today with our SouthWest Florida Cyclists club. We wore our 20th Anniversary GTR 2019 jerseys proudly too! We wish we could have spent this near perfect day with all of our GTR friends but it just wasn't in the cards this year of COVID19 🙁
---
Doc and Jeanette Quinlan, The Villages, FL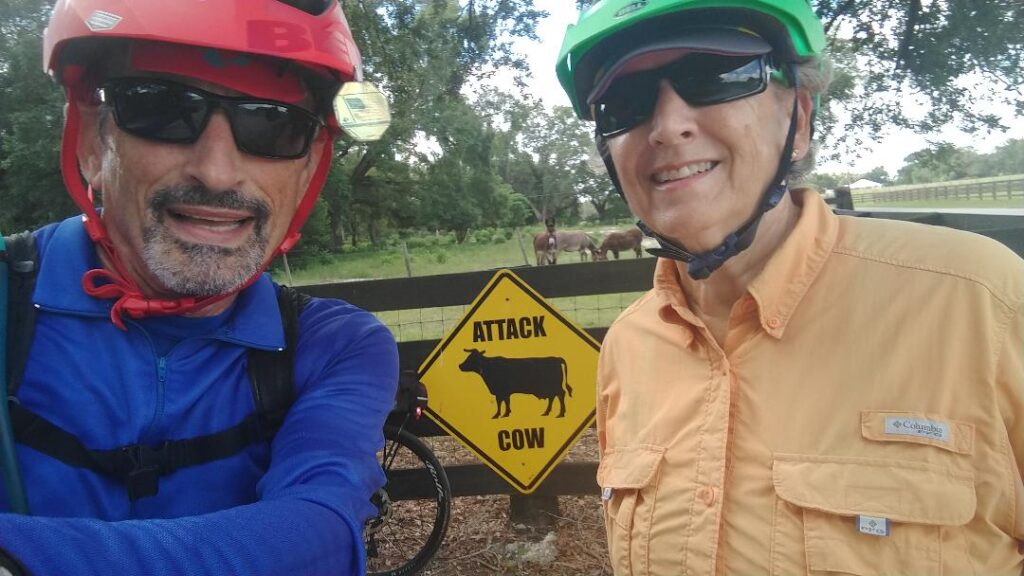 Touring cattle and horse country around The Villages! Hope everyone is staying safe and healthy.
---
John and Sharon Schmitt, Bluffton, SC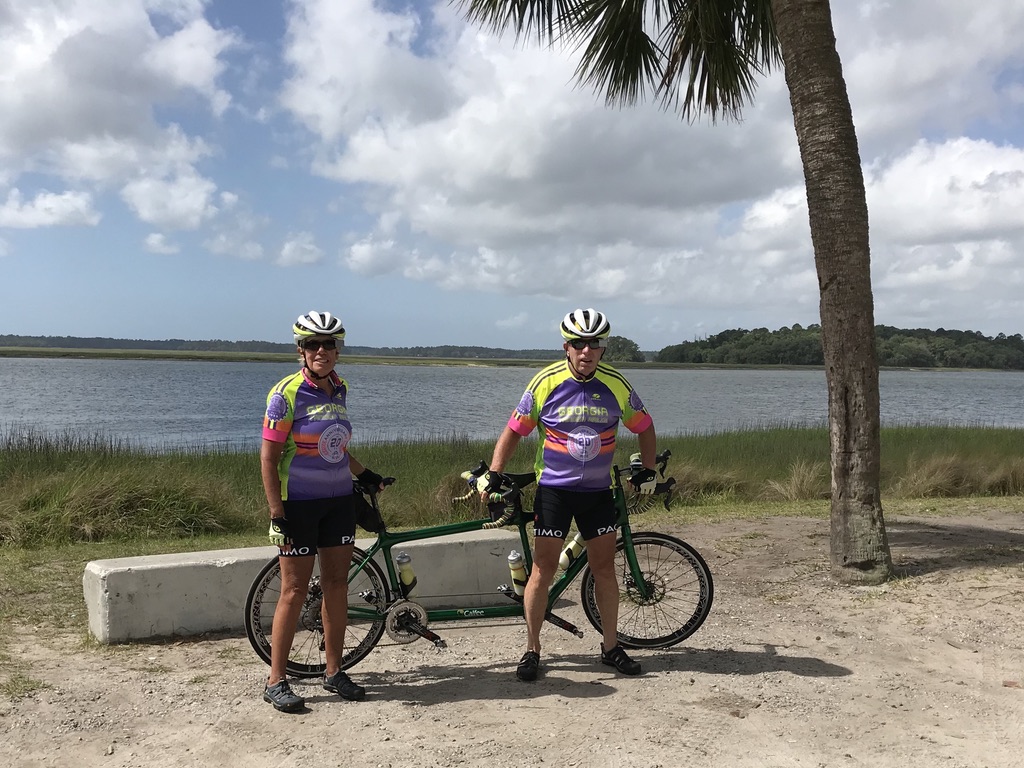 This is one of our favorite rides to Alljoy Beach in our home town of Bluffton, South Carolina. On this ride we overlook the beautiful May River and the salt marshes.
---
Earle and Laura Reynolds, Ocala, FL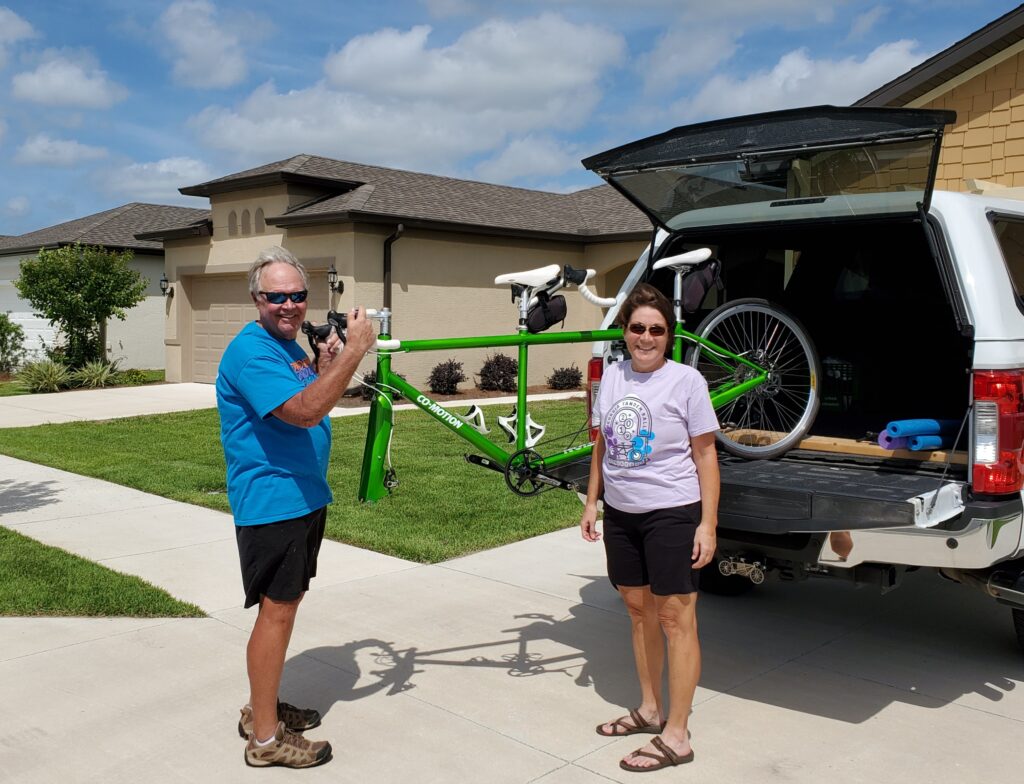 Here we are getting ready to escape Florida. With GTR postponed we decided to head to the Smoky Mountains. Will be putting miles in the car instead of on the Green Hornet during GTR weekend.
---
Tom and Margaret Flick, Windermere, FL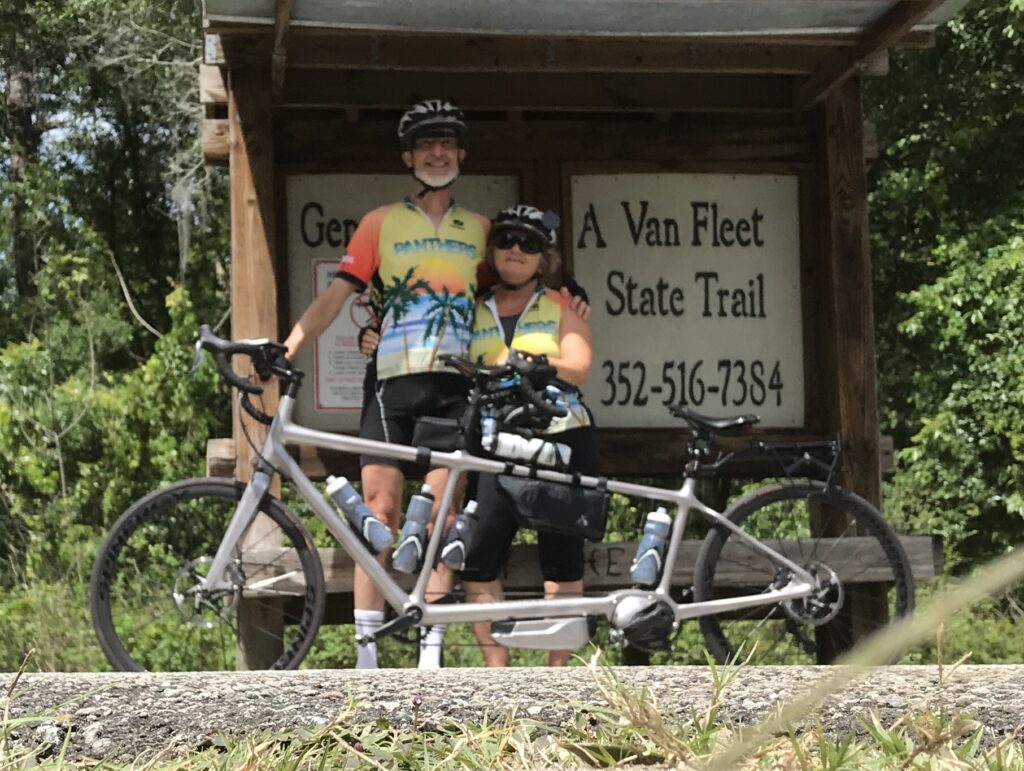 This would have been our first GTR but rode the Van Fleet Trail instead.
---
"Bobkat" Acuff, Clermont, FL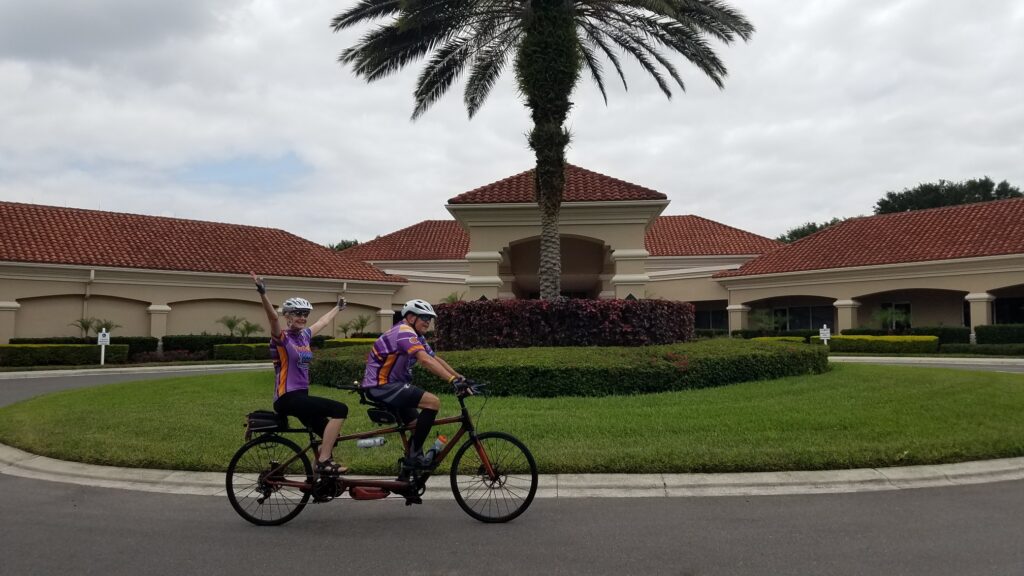 Missing our GTR friends!
We are riding our neighborhood daily and enjoying all 24 miles of hills and traffic free roads.
Everyone stay safe!
---
Robert and Betty Jean Jordan, Monticello, GA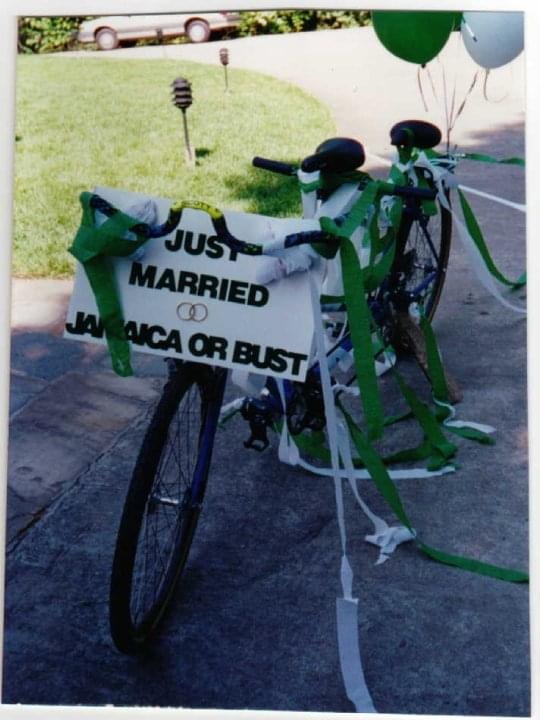 25 years ago, Robert and I left our wedding reception on this borrowed tandem. On May 6, 2020 we rode our own tandem 25 miles to celebrate our anniversary. I recreated the sign from our wedding day to read: (Feels Like We're) Just Married – Hillsboro or Bust!
---
John-Mark and Ava Turner, Blairsville, GA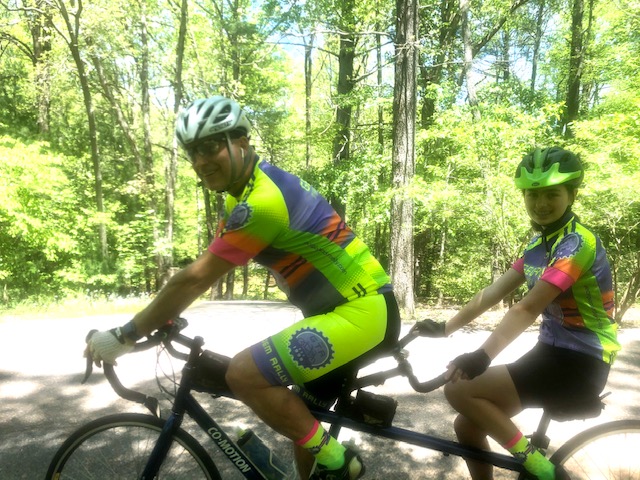 Ava and I rode in full GTR kit today remembering all the fun we have had at previous rallies. We have also been riding our hybrid tandem on local gravel forest service roads. Ava puts the musical Hamilton on a Bluetooth speaker and we listen to all 46 songs in the play while she sings along. Stay safe!
---
Roger Strauss and Eve Kofsky, Marietta, GA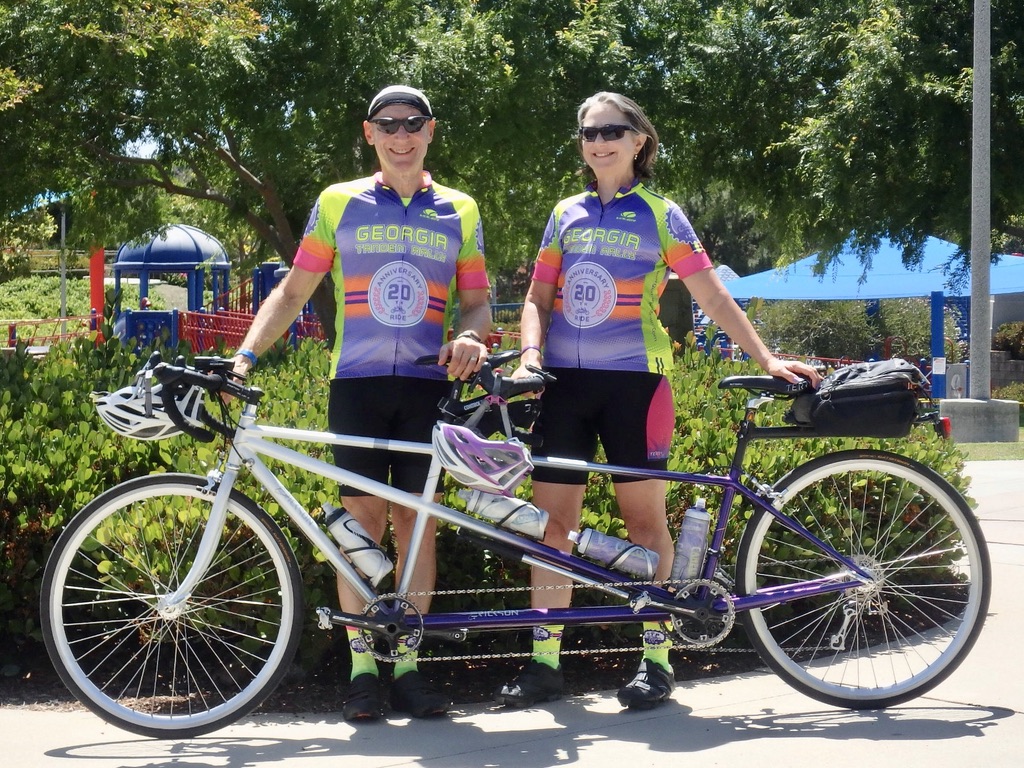 Your ride directors rode a 30-mile loop from Newport Beach to Irvine, CA in their GTR jerseys. This photo was taken at a rest stop in one of the many beautiful parks in Irvine.
---
Here's how to enter your team in the GTR 2020 virtual tandem rally:
This weekend, take one picture of your team on a bicycle ride. (Wardrobe hint: Wear a GTR jersey if you have one.). We just want one picture, so make it a good one. Another hint: Use your phone and take it in a horizontal (landscape) format.
Email the picture (use the handy button below), your names, where you are from, and a brief (50 words or less) description of your ride or a message to your fellow tandem teams. Please make sure to submit your names in case we do not recognize your email address.
That's all you have to do. We will post the pictures with the newest at the top of the file and the oldest will move towards the bottom.