Because of coronavirus concerns, we have postponed the rally until Labor Day weekend.
TIFTON, GA, SEPTEMBER 3-6
GTR 2020 Version 2.0 will be a bit simpler in September. There will be no Saturday banquet. Some of our social events may have to be curtailed. We are still going to Tifton as planned. Obviously, all of us are keeping an eye on coronavirus news.
Tifton has been called the "friendliest city in Georgia".  The local businesses are very excited that GTR is on the way and we are too. The city is surrounded by low-traffic roads that go through thousands of acres of cotton, soy, and peanut fields. In September, the crops will almost be ready for harvesting. Here are some of the things we have planned. They are subject to change as we get closer to the rally.

THURSDAY, SEPTEMBER 3: We'll gather in our hotel lobby bar for registration. Come enjoy some happy hour specials as the GTR family gets back together for its postponed yearly "reunion".
FRIDAY, SEPTEMBER 4 The Eldorado Ride. The first ride of the weekend is a remote start from the tiny town of Eldorado, which is about eight (highway) miles from the host hotel. Options of 28, 46 or 58 miles take us through the tandem-friendly terrain of this part of the state. You will not see a traffic signal on your entire ride.

Friday night, join us for "Cupcakes In The Courtyard" at Tifton's City Hall. Back in Tifton's railroad heyday, City Hall was a luxury hotel. Since then, it has been restored to its former splendor. We are getting the keys to the building for the night. Hopefully, we won't get too rowdy when we are hyped up on sugar.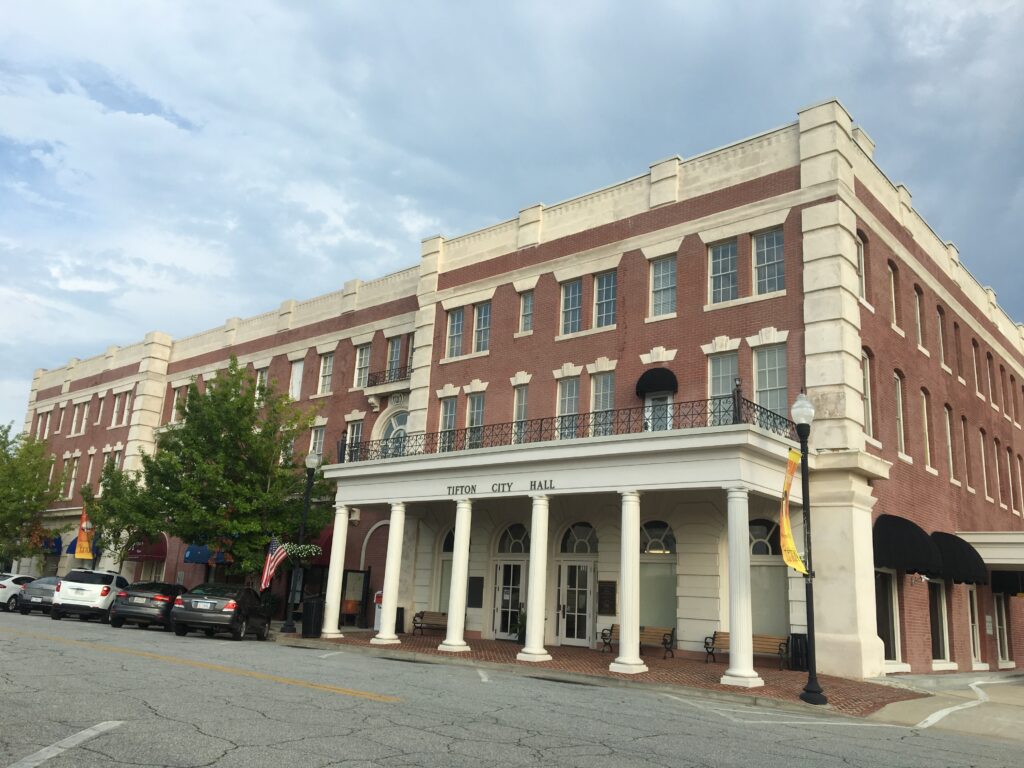 SATURDAY, SEPTEMBER 5: Saturday is traditionally the busiest day at GTR and this year we have plenty of plans. Ride options of 29, 45, or 62 miles promise something for everyone on the road.

Saturday's lunch is at the end of the ride this year, right at the host hotel. Those finishing early can go get cleaned up for lunch. Then build your own culinary creation at the GTR sandwich bar.
SUNDAY, SEPTEMBER 6 Sure, it's time to go home, but why not squeeze in one more ride before we hit the road? We've got a 26-mile spin that will help us burn up some of those calories that we ate over the weekend. Then it's back to the hotel for check-out. And it's only eight months to GTR 2021!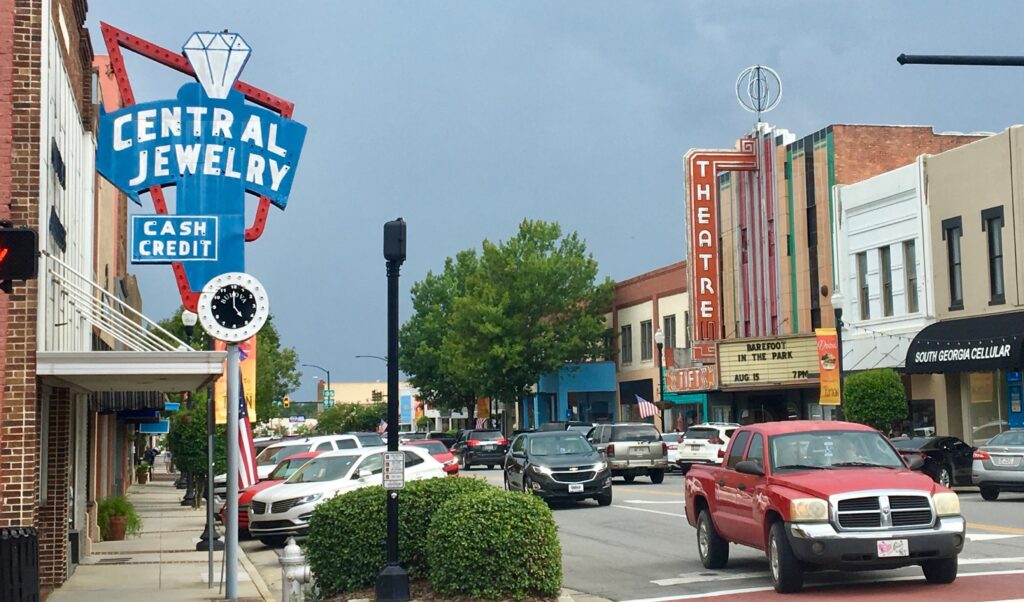 GTR RIDES AND TERRAIN
The rally will have less hills this year than in the past two years. Rides in Tifton are tandem-friendly. It is not flat, but no hill is over 4% and the "climbs" are very short.
| Day/Option | Climbing (Source: Ride with GPS) |
| --- | --- |
| Friday 28 | 900 feet |
| Friday 46 | 1200 feet |
| Friday 57 | 1500 feet |
| Saturday 29 | 850 feet |
| Saturday 45 | 1350 feet |
| Saturday 59 | 1900 feet |
| Sunday 20 | 600 feet |
| Sunday 26 | 800 feet |
THE GTR 2020 PRE-TOUR
For those of you who were wondering, we had a pre-tour on our postponed May ride, but we will not be running a pre-tour in September.
WHERE THE HECK IS TIFTON, GEORGIA?
It's 60 miles north of the Georgia-Florida border, so it's easy access for our Floridian friends. Like Valdosta (GTR 2017), Tifton is one of those cities on I-75 where you have probably stopped for gas, but have never really visited. The city boasts a historic downtown and quiet country roads are just a couple of miles away from the bustling highway exit where our hotels are located. Use the map below to see how far Tifton is from you.
GTR REGISTRATION
Registration will run July 15-August 15. If coronavirus is still a concern, we will call off the rally for 2020 and hope things are better by GTR 2021.
GTR 2020 PRICE SCHEDULE
| | |
| --- | --- |
| Captain/Stoker Team | TBA |
| Captain/Stoker/1 Child (age 4-17) | TBA |
| Additional Children (age 4-17) | TBA |
| Children under 4 | FREE! |
| Extra Adult Stoker (age 18+) | TBA |
Your registration fee includes three days of riding, maps, cue sheets, GPS files, ride snacks, GTR SWAG, insurance, road marking, our Friday social event, and lunch on Saturday. Your hotel room costs are not included.
GTR REFUND POLICY
You can get a full refund (less a $25 cancellation charge) until August 15, 2020. By registering for the rally, you agree that beginning on August 16, 2020, there are no refunds.
GTR HOTEL ROOMS
You are responsible for your own hotel reservations and the cost of your hotel room. After you sign up for the rally, you will also be sent the information to get your hotel room in Tifton.
NEW TEAMS: GET GTR UPDATES DELIVERED TO YOUR INBOX
If you have never attended GTR before and would like to get on our email list, Just fill out this handy form. We will never sell your name or email address. You can cancel anytime.