TIFTON, GA: AUGUST 26-29, 2021. LESS THAN 10 SPOTS REMAIN.
CLICK HERE TO REGISTER FOR DIRTY GTR 2021
As we were planning a road rally in Tifton, we kept coming across dirt roads when mapping our routes. In some areas, it was easier to plan a dirt ride than one on the road. And that's where the idea for Dirty GTR was born. Come and get dirty with us in south Georgia. It promises to be a filthy good time.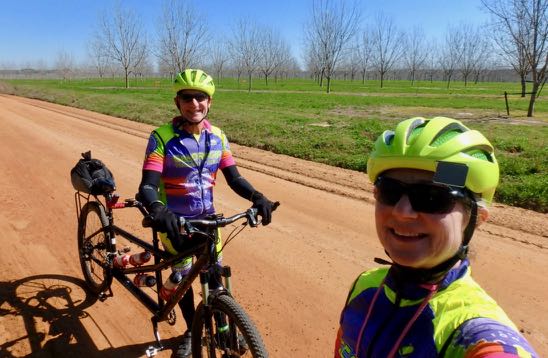 What's around Tifton? Cotton, peanuts, pecans, and a lot of (mostly) smooth dirt roads. The pecan groves will be full of leaves and baby nuts, promising some shade-filled respites from the sun. You will be amazed at how many pecan trees are in this part of the state.

Tifton is the crossroads of agriculture in south Georgia. It's an old railroad town where you can still hear the trains a-rollin' down the tracks at night. (Bonus points to you if you just identified a Johnny Cash lyric.)

From the classic movie theaters to classic Lincolns, there's always something going on in mid-century, downtown Tifton!
Tifton is close to everyone in the southeast. See how far you are from Dirty GTR 2021.
But enough about our host city. Let's get to ride details!
THE ROUTES
There will be two options on Friday and Saturday of about 33 and 44 miles. Both days are REMOTE STARTS. Sunday's ride is from the host hotel and is 25 miles. We'll be riding on a mix of about 65% dirt and 35% pavement. There are some inclines, but generally the climbs are not steep or long. The roads will NOT be marked and some will not have street signs. You will get excellent cue sheets and GPS files. Know how to load and work your GPS device before you get to Dirty GTR. Lost? It probably won't happen, but think of it as part of the adventure.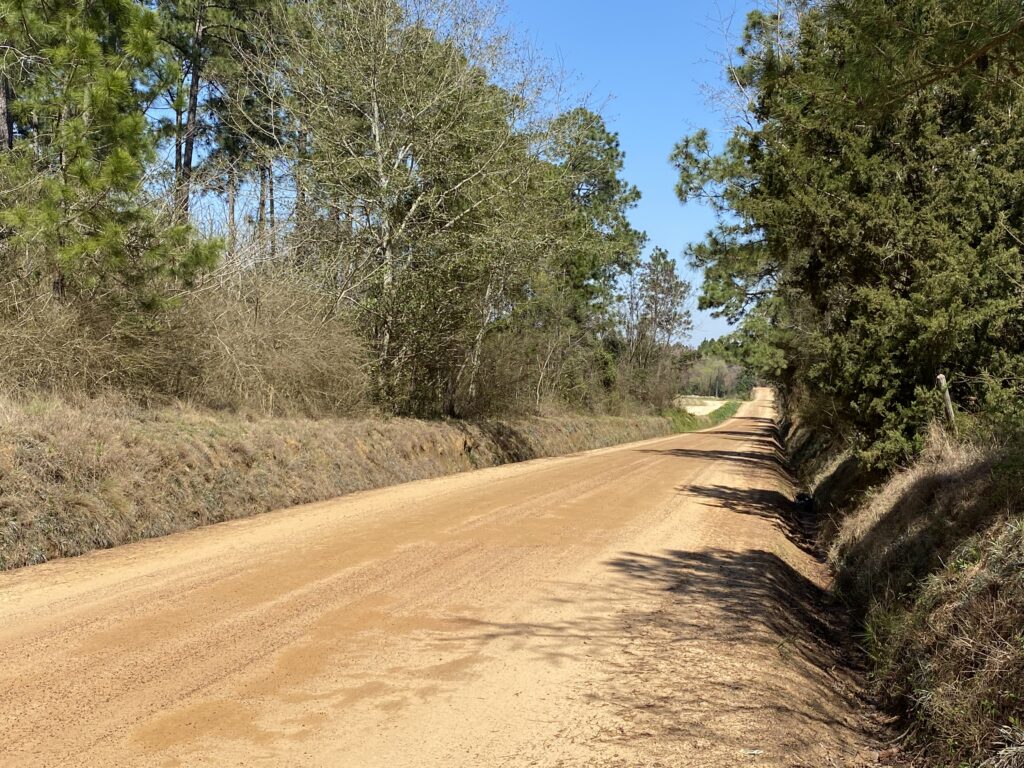 DGTR "Climbing" Chart
| Day/Option | Climbing | Percent Dirt | Stores |
| --- | --- | --- | --- |
| Friday 34 | 1100 feet | 58 | 1 |
| Friday 44 | 1300 feet | 59 | 2 |
| Saturday 33 | 1100 feet | 72 | 1 |
| Saturday 44 | 1500 feet | 75 | 2 |
| Sunday 25 | 750 feet | 45 | 1 |
SUGGESTED EQUIPMENT
Although some of our riding is on paved roads, we highly recommend a gravel or MTB tandem with at least 35mm tires with gravel or dirt tread. Don't bring your road bike with 28mm tires. You will be miserable. The dirt roads of south Georgia are generally hard-packed and very well-maintained. However, some are rutted and some have places where there is sand and loose dirt. Due to bad drainage, things can get sloppy after long periods of rainfall, but we are not expecting that in late summer.
Due to the lack of street signs in some places, we strongly suggest that you have a decent Garmin/GPS device that you know how to work. No Garmin? You can use your phone with the paid Ride With GPS membership. Don't want to do that? You should bring a stoker with a good sense of direction.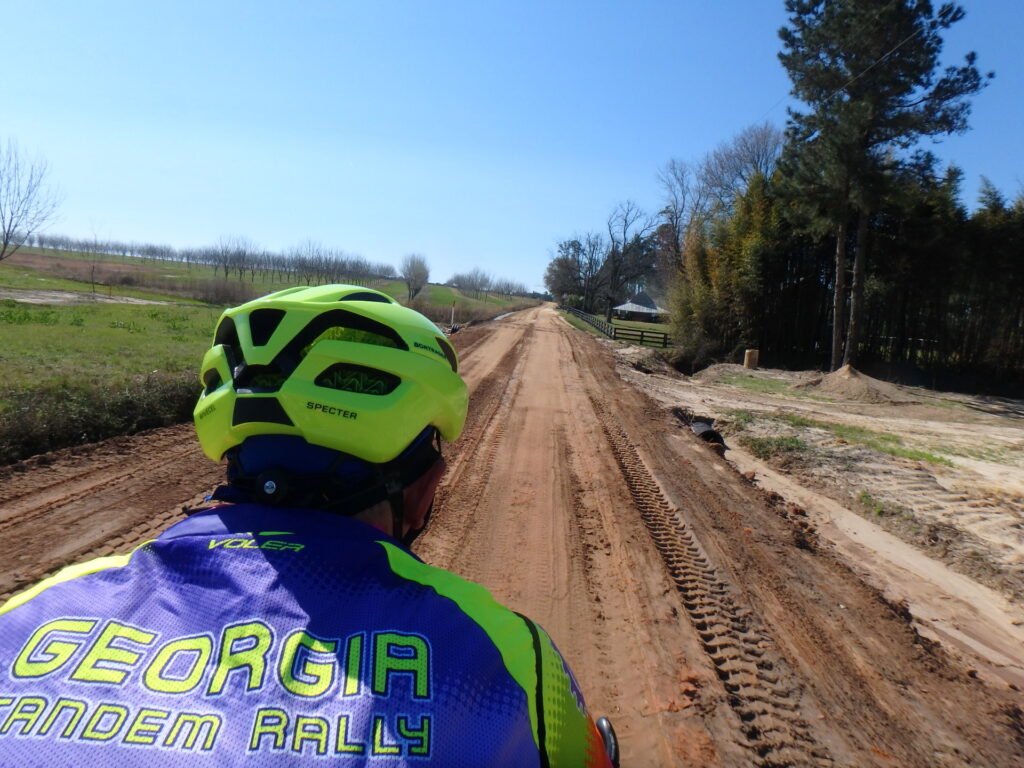 THE HEAT IS ON!
Weather warning: it's gonna be hot. And it's probably going to be humid. To beat the heat, we are starting our rides at 8:30AM and the longest option will be 44 miles. Believe us–it's enough. You should be done by high noon, which gives you the rest of the day to cool off. Afternoon rainstorms are common. They will keep the dust and the temps down.
COVID VACCINE REQUIRED
To ensure safety for all of our riders, we are going to require that all of our riders be vaccinated. We are not going to check your CDC card, but we feel this policy is the one thing we can do to keep everyone safe and greatly reduce our COVID risk in Tifton.
Because of COVID, we do not have any formal social events planned at this time. We will probably organize a few informal gatherings during the weekend. Everything we do will be outside.

We have no idea what kind of demand there will be for Dirty GTR. We may be able to adjust upward once registration starts if there is enough interest.
DGTR CO$T$
The cost for the weekend will be $120. Your fee includes riders insurance, DGTR SWAG, cue sheets, route scouting, and (hopefully) some special treats. Your cost does not include your hotel room or your meals while you are in Tifton.
DGTR 2021 REGISTRATION
Electronic registration for DGTR 2021 begins on July 1 and goes until August 1 or the rally is full, whichever comes first. See who is coming to Dirty GTR 2021.
CLICK HERE TO REGISTER FOR DIRTY GTR 2021
DIRTY GTR HOTELS
Our host hotel isn't dirty, just our riders. After you register, you will be sent information about how to make hotel reservations in Tifton. You can stay in our host hotel, or there are a gazillion other hotels in the area. There is also camping for those who want it. If you are camping, you will need a way to get your bike to the ride starts every day, so keep that in mind when making your decision.
DIRTY GTR REFUND POLICY
There is a $15 fee for all cancellations before August 1. Just email us and we will cancel your spot and set up your refund. After August 1, there are no refunds.
RIDE QUESTIONS?